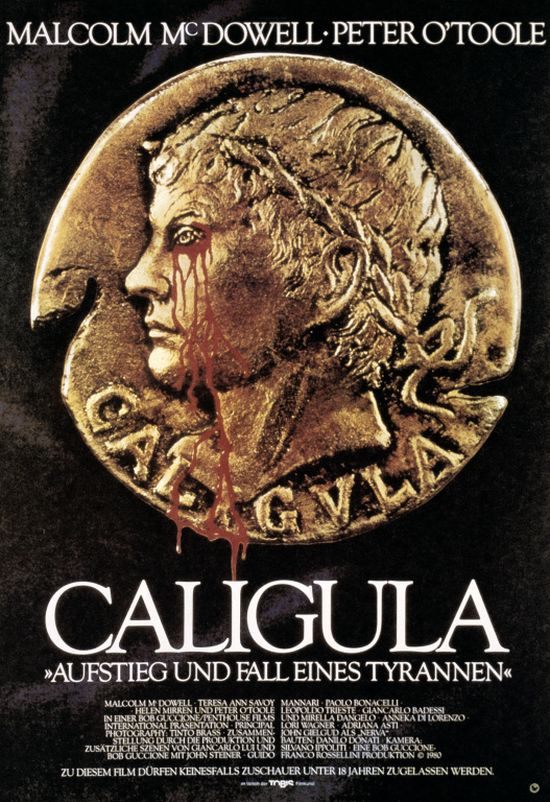 Year: 1979
Duration: 02:35:57
Directed by: Tinto Brass, Bob Guccione
Actors: Malcolm McDowell, Peter O'Toole, Helen Mirren, Guido Mannari, Teresa Ann Savoy
Language: English
Country: Italy | USA
Also known as: Kaligula, Caligola, Caligula, My Son
Description: The rise and fall of the notorious Roman Emperor Caligula, showing the violent methods that he employs to gain the throne, and the subsequent insanity of his reign – he gives his horse political office and humiliates and executes anyone who even slightly displeases him. He also sleeps with his sister, organises elaborate orgies and embarks on a fruitless invasion of England before meeting an appropriate end. There are various versions of the film, ranging from the heavily- truncated 90-minute version to the legendary 160-minute hardcore version which leaves nothing to the imagination (though the hardcore scenes were inserted later and do not involve the main cast members).
Review: Well … Virtuoso erotic / pornographic genre, great writers, brilliant actors portray the British School took "Life and Strange Surprising Adventures" Roman tyrant. .. Well, how could they get something other than a masterpiece?
Talk about their strike one of Caligula's meaningless. This film presses, striking the imagination of even the most sophisticated audience. Be prepared for you from the screen to pour all the dirt, filth and baseness of human nature. Be prepared no sympathy and no regret.
And be prepared to kneel before the maestro Tinto (famous director of huge number of erotic movies, like Paprika and Monamour), dared to make "serious picture frivolous genre" and thereby perpetuate itself in the history of world cinema.
Screenshots:
Download: