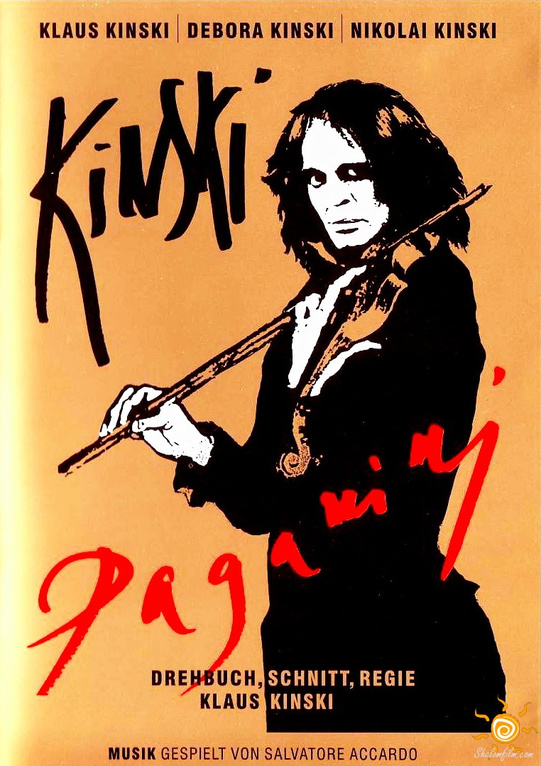 Year: 1989
Duration: 01:34:16
Directed by: Klaus Kinski
Actors: Klaus Kinski, Debora Caprioglio, Nikolai Kinski, Dalila Di Lazzaro
Language: English
Country: Italy | France

Also known as: Paganini
Description: Kinski believed that he lived through the same experiences as the legendary "devil violinist" Niccolo Paganini, who set whole Europe of the 19th century into frenzy and through whose personality Kinski offers us an incredibly profound and honest insight into his own life; a life of extremities.
Review: "Paganini" Klaus Kinski (Lifespan and Jack the Ripper) is still one of the most controversial films about art and its sexual nature. This creation Kinsky says little about the figure of a brilliant violinist, and the more it develops the aesthetic of rock and punk music to their desire to show all the natural man. According to Kinsky, music should not just call the listener stormy gusts light of revelation, and it must, first of all, to shock. Against the background of culture shock and develop the film.
To show how new music is different from the traditional classics or all of that jazz, in the form of hyperbolic Kinski Paganini embodies all animals vices new style. Most grateful to the audience a film without a doubt could be Sigmund Freud, since the film is in the tradition of neofreydizma.
By Kinski, musician – is chelovekozver, and music – sexy dope. Kinski Paganini, with the help of music is trying to revive his ailing sex psyche. He appears as a pathetic, disgusting, horrible psychopath. For him there is only art, intertwined with sexual ecstasy. External deformity by sublimation turns into a mad genius sounds of violins. Each concert is shown as a sexual act, the creator and the audience.
Screenshots:
Download: