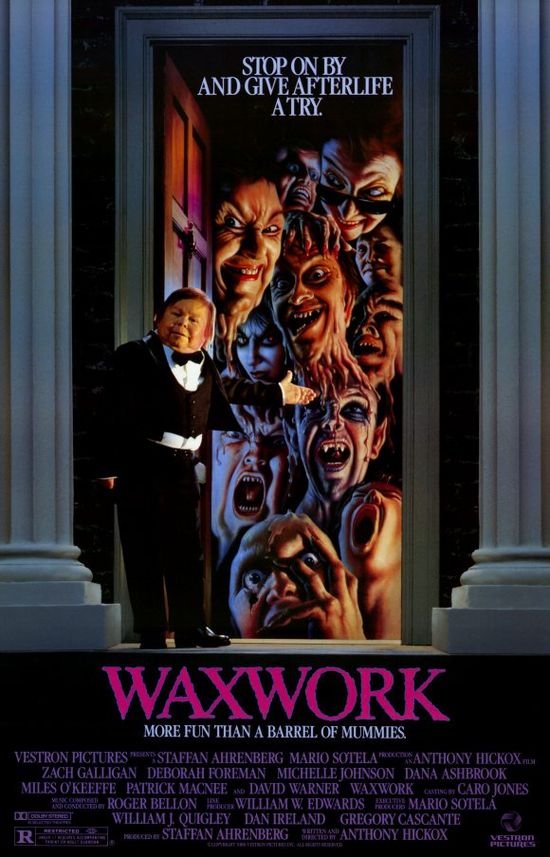 Year: 1988
Duration: 01:33:10
Directed by: Anthony Hickox
Actors: Zach Galligan, Deborah Foreman, Jennifer Bassey
Language: English
Country: USA | West Germany | UK

Also known as: Illusione infernale, Waxwork: Museo de cera, Reise zurück in der Zeit
Description: They truly do not make them like this anymore!  I'm not going to say much other than this is a classic horror flick that you just have to have.  It has an undeniable charm and that special 80's vibe that lets you know you are in for something special.
From somewhere in the city there is a wax museum where the most terrifying monsters in the history of mysticism Dracula, the Marquis de Sade, the Phantom of the Opera, Frankeyshteyn and many others. Sinister curator invites a group of students, young punky mod, the presentation of the museum, to be held at midnight.
When visiting the museum, they find "inferiority" collection – some wax miniatures (which, as a rule, scenes from the life not the most pleasant of historical characters such as the Marquis de Sade or Count Dracula) is not enough characters … I mean – the victims … And in the city, meanwhile, people disappear …
Review: The story about the museum with the evil waxworks has many variations – then you and the source code of 1933, and the classic version with Vincent Price in 1953, and the obscene thing with Paris Hilton in 2005. This version also has little in common with the others, Anthony Hickox yet made his film unlike any other. And it was the right decision (thousands of grateful fans who watched this very tape in the video recorder still on the 90th, will not lie).
The story seems to be simple – there are a bunch of young people, there is a mysterious museum, with special teleports, transferring cheresur curious guests postamentnogo deep into the action – like fun, but nothing special. But as it is furnished!
We immediately see that the tape was filmed for modest money. But that did not stop the master of special effects to create a gallery of Bob Keane visible images. Werewolf, mummy, zombies, vampires – all this combined with blood, gnawed leg and living their lives by hand (probably the influence of "Evil Dead 2") as it tells us from the screen, "Hey, we spent a little bit, but with dignity, we'll Tighten the head and cheer! ". So I have to take my hat in reverence, and my only complaint for the final fire in a building that is clearly visible when the layout to use. But right – it's all so petty compared to what happened before, that this can be embarrassing to score.
Actors clearly fit into images. And I'm not just talking about Zach Gelligane – which in addition to the Novels "Gremlins" and the work you are likely to find something worthwhile – and his friends – very much like to highlight the villains. This colorful trio of keepers of the museum (the old man, dwarf and nedoformirovavshiysya Frankenstein), and wax figures. Very colorful personality – and big-name John Rhys-Davies as the Werewolf, and charming Miles O `O'Keeffe (one of the most attractive and vibrant Dracul in world cinema), and overbearing, J. Kenneth Campbell (Marquis de Sade) – a real flower memorable images.
Musical accompaniment me in the most part not really touched (though the rumor did not cut), but in the end credits song sounds great It `s my party, which can still be heard in the" difficult child. " The operator and decorators also tried their best, make the most of a modest budget.
But most of all, in my opinion, he tried Hickox. For three days he created his famous basis, unlike other versions of the script, having seasoned notes of his good humor, and using a small budget, and was able to attract the colorful cast, and make a real feast for the eyes. It is a pity, though, that I have not seen this tape in my childhood, because clearly it would be 10, and so a couple like and trifling, but frustratingly annoying flaws are evident. That does not prevent to put this picture is very high and, in my opinion, well-deserved praise.
Review #2: "Waxwork", who would have thought, already the second remake of 1933, "The Mystery of the Wax Museum." Of course, I do not know how to look that old movie, I do not know I just looked like his first remake of 1953. In any case, it seems to me, even if much of the second remake was changed, the film turned out still just as good, maybe even at times better than previous incarnations of him.
The plot is almost immediately transferred, in fact, to the museum of wax figures and begins to intrigue the viewer. The absence of a long prologue, which was typical, in principle, feature films for 80 – forte movie. In this scenario, the audience immediately with his head immersed in a film taking place in the mystical events. Movie characters quickly realize that the museum is not all clear, but because most of the time we are watching as they try to unravel the mystery of first wax museum, and then defeat the evil that hides the museum for its stone walls. This unusual setting of the plot is really impressive. Perhaps it happened because even that screenplay writer and director in one bottle Anthony Hickox wrote literally three days. But hurry in the plot while not feel happy picture contrast gradual change frames and diverse situations and lack of banal, unnecessary scenes with tons of dialogue, which was also typical for horror films and thrillers of the era. We can assume that this happened not because of fast (and successfully) wrote the script, and the script because the original film of 1933 year. Who knows, as before filming horror movies, and that they put the emphasis? I'm in such a jungle horror genre has not climbed, with his head enough for the 70-80s.
In the late 80's horror films, built on interesting, even if not original ideas (for "Wax Museum" – still remake) have become all the rage and began to gradually replace the slasher, which by that time, unfortunately, gradually degenerated. It can be said that the film noticed, but for some it has even become a cult classic, it is for this reason. With all hands, "Wax Museum" – a strong, interesting thriller, filled with various events, giving the viewer does not get bored for a minute.
Verdict. The film "Waxwork" – is not new. It is the second remake of a very old movie. Familiarity with deep classic not to everyone's liking, so I recommend you start out with this universe is a film in 1988. I think fans of interesting horror picture liking.
Screenshots:
Download: