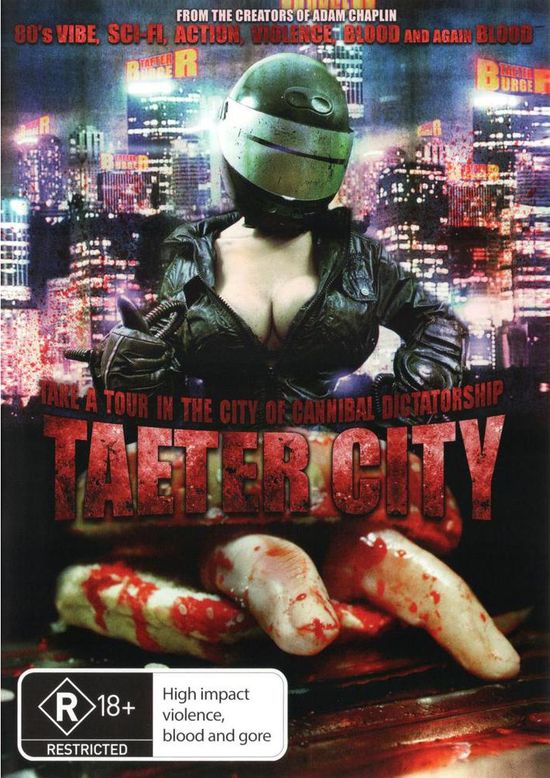 Year: 2012
Duration: 01:12:53
Directed by: Giulio De Santi
Actors: Monica Muñoz, Riccardo Valentini, Santiago Ortaez
Language: English
Country: Italy
Also known as: 
Description: A film about the state of the future, in which criminals are for the sole purpose – to be meat to all other citizens. And the "hammer" bad guys acting special electromagnetic waves that make the "evil people" to kill each other with maximum brutality.
Review: Delirium. Trash . Violence for the sake of violence. Makes no sense. It's all here in the Taeter City . Graphs of the genre can safely remove the word " action, thriller ." I used to think that the Japanese "garbage" the most repulsive , frostbitten , but the Italians managed to surpass .
A future not want to see anyone. Allowed cannibalism , even advertised everywhere. Forbidden to eat animal flesh , and people can be ! Where is the logic ? Kill for the sake of common prosperity are designed by bikers , who themselves are the same as the rest of the bad guys . There are also mutants killing other idiots. All finishes fairly predictable .
Rivers of blood poured over the film 64 minutes.
Giulio De Santi tried to pile the most brutal , but did not a scary movie . Looks pretty cheap as it should be only in the thrash . I regret that I did not read the trailer before watching , for a very brief video very clearly makes it clear that this movie is not for everyone.
Screenshots:
Download: