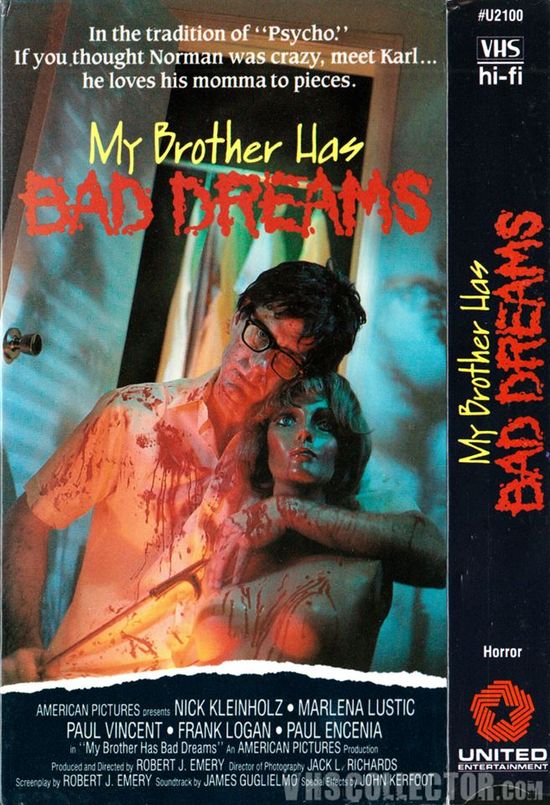 Year: 1974
Duration: 01:38:07
Directed by: Robert J. Emery
Actors: Paul Vincent, Marlena Lustik, Paul Ecenia
Language: English
Country: USA
Also known as: My Brother Has Bad Dreams
Description: This is a very VERY rare but great Psycho-esque momma's boy exploitation film from the early 70s that is very simliar in feel / look to The Love Butcher or Schoolgirls in Chains – ie: grimy, slow and oppresive. In my view that makes it gold!
This was a decent film but terribly shot and/or transferred, as some scenes are really dark or color faded, the color and light seem to keep adjusting itself, and there's dirt and finger prints on the projector lens that follow the movie throughout.
And with that, I did what I could to touch it up, light, color, contrast and sharpen, but it didn't help much.
The film itself is a nice little twisted slasher film originally titled "Scream Bloody Murder", not to be confused with the film of the same name released a year earlier with the hook-handed psycho.
Sloppily retitled "My Brother Has Bad Dreams", by sloppy I mean you can see a significant film cut where the original title should have been.
This story is about an unstable fellow Karl who saw his mother killed by his dad when he was little, now he's a psychological wreck and his older sister Anna has to watch over him, he suffers from nightmares and flashbacks, has a manikin fetish and incestual fantasies of his sister, he runs into a drifting war-vet on a motorcycles while skinny dipping and brings him home for dinners, his lonely sex hungry sister has him stay the night, eventual our young crazy head Karl goes off the deep end and kills his sister, her lover AND the mailman, but I won't give away the very disturbing endi
Review:
Screenshots:
Download: