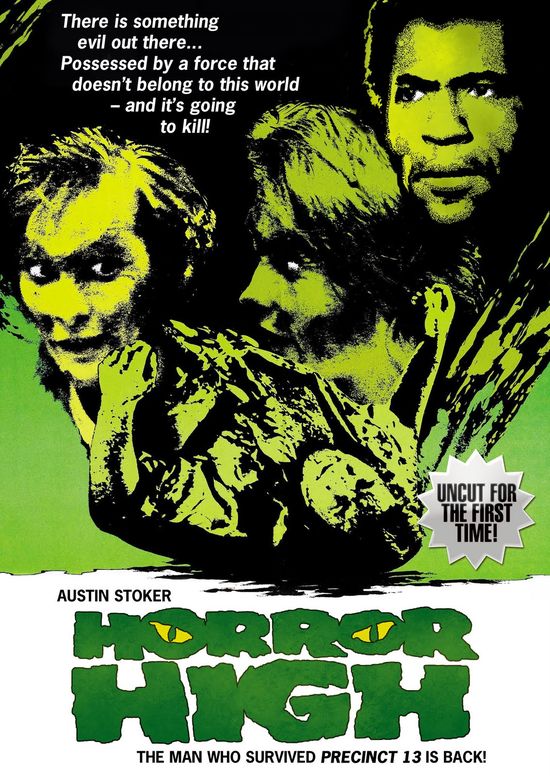 Year: 1974
Duration: 01:23:45
Directed by: Larry N. Stouffer
Actors:  Pat Cardi, Austin Stoker, Rosie Holotik
Language: English
Country: USA
Also known as: Twisted Brain, Cérebro Diabólico, L'ange meurtrier, Horror gimi, Kiss the Teacher… Goodbye!, Die Teufelsbestie
Description: This rip comes from one of those cheapo multi-movie box sets, but low and behold, it contains a widescreen and uncut version of HORROR HIGH, the sleazy cult classic horror movie from 1974. Long before TROMA struck gold with "THE TOXIC AVENGER", Crown International presented us with the original "nerd-turns-revenge-seeking-monster" drive-in classic "HORROR HIGH". This copy is rough but very watchable, just do not expect the pristine restoration job done on the recent 35th Anniversary DVD – but that one is off-limits. I don't mind watching these kinds of movies with this quality, though, cuz it adds to the sleaziness. This one also does not have the footage that was added for the television version and re-inserted on the new DVD but that only involved some superfluous scenes with Vernon's father. But all the gore is intact!
Review: Vernon Potts – creepy bespectacled and nerdy. As expected, it is not like almost everything – from the janitor to school teachers. With a cleaner, by the way, got a story – potsapavshis with Vernon about a dead cat, he forcibly made out of anger guy to drink some chemical stuff, under the influence of which was creepy hrenpoymikem Vernon, who mercilessly sent a cleaner to drink out of a barrel of acid. Ochuhavshis, the guy covering his tracks in a hurry. And then it comes up that everyone – from school bullies unfair to teachers – can go to hell, for we now have the elixir of Vernon. Former bot begins to take revenge.
This carried over into the seventies, a peculiar variation of stories Jekyll and Hyde created forgotten God and man studio Crown International Pictures, a summary of which has hipparsko-freaky "Hitchhiking" of 1975. Along the way, this office was promoting low-budget student bands (and engaged in bad, because no one in their right mind would watch these movies.) "School of Horrors" fully meets these criteria, since he filmed almost on his knee, with almost no budget, and it is absolutely sure – completely wild-quality film.
Briefly summarize: the actors in the film are quite mediocre, especially no one stood out. Unexpected twists and turns of the plot is not in sight. Murders occur through time – but with enough blood, sometimes with make-up
Screenshots:
Download: