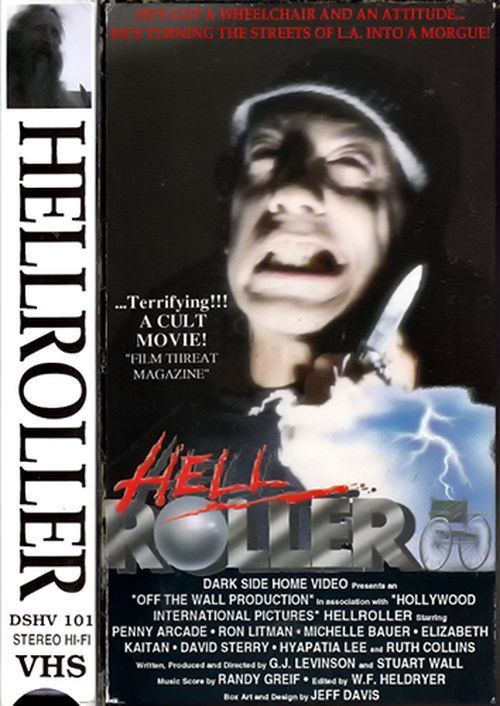 Year: 1992
Duration: 01:11:58
Directed by:  Gary J. Levinson

Actors:  Ron Litman, Penny Arcade, Michelle Bauer

Language: English
Country: USA
Also known as: 
Description: This must be one of the wierdest and crappiest movies ever made. So I'm very pleased to be able to share this with you now. Let's start off with some quoting from the original ripper before we copy the description from the VHS cover.
Not only is this the only movie about a wheelchair bound serial killer I can think of, it is also, as far as I know, the only movie so shitty that Mary Woronov felt she needed to use an alias in the credits. Considering some of her body of work that is really saying something.
I should also mention that it features some kind of weird rapist cojoined siamese twin combo.
Hellroller lifts the lid on the violent sewage pit of today's urban madness through the eyes of Eugene, a man who has suffered unimaginable mental and physical atrocities at the hands of an out of control society and is left wheelchair bound. Homeless and alone, Eugene unleashes a limitless rage as the Hellroller shocks the world as its first wheelchair serial killer. He begins a wave of murders against "normal" people, especially beautiful women who show him nothing but scorn as a cripple. From top model to hooker to tough street girls, the Hellroller's crescendo of mayhem accelerates. Tortures by shocking and diabolical nightmares (depicted in scenes with spectacular special effects) the Hellroller descends into a final savage confrontation with the King of the Bums. Hellroller redefines terror as victims are impaled, "ironed" to death, and even the horror of self amputation assaults its viewers. The "worm sequence" will revolt the squeamish and electrify hardcore horror fans. Your view of the world will forever be altered as you experience the depths of madness and extremes of violence that spawn the Hellroller!
Screenshots:
Download: