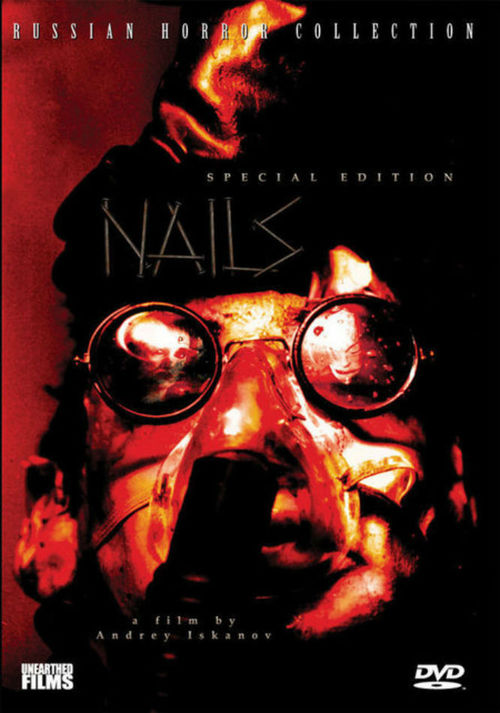 Year: 2003

Duration: 01:01:39
Directed by: Andrey Iskanov
Actors: Alexandra Batrumova, Svyatoslav Iliyasov, Andrey Iskanov
Language: Russian | English Sub-titles

Country: Russia
Also known as: Cruel Behaviour, Nails
Description of Gvozdi: This movie is pretty messed up, but also pretty shit. Its about this government contract killer who gets a bit sick of being an assassin and decides to have a breakdown instead. Getting sick of hearing incessant voices he reckons its about time for some home surgery, opting for some trepanation.
What happens next is all pretty crazy, in a low budget kinda way.
Imagine watching a film made by the bastard child of Lynch and Cronenberg while he was studying contemporary art at some overpriced film school.
Enjoy.
Review: Just the essence of all that " Nails " – a film very well for a narrow circle of people : the story fits into the two proposals made ​​by special effects in the form of a squalid , all photographed on amateur camera , acting in a terrible laugh , and the scenes of violence are not impressive worse than the most bloody fantasies Lucio Fulci . Why watch ? Reasons may include the following : the love of one of the above areas of cinema or just curiosity.
The plot we have the following : once a guy drove a nail into his head to get rid of headaches (!) , But time is running out and head need fresh dose ( yes, almost a metaphor – nails, like drugs ) . What happens next can be called in one word – glitches . And glitches terrible and nasty . Plus a bunch of bloody naturalistic scenes.
Even I do not know what else you can tell about the picture . I can only say that if you think that David Lynch or Stephen Chow removed delusional films – after the " Nails " You will change your opinion in the bud.
And by the way , the film effect of some transcendent . After watching the head in such a state , if a bunch of nails hammered …
Screenshots:
Download: