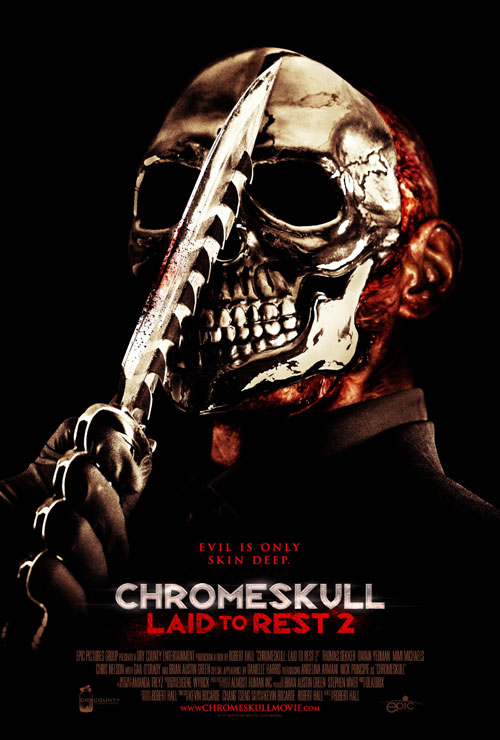 Year: 2011
Duration: 1:33:20
Directed by: Robert Hall
Actors:  Brian Austin Green, Thomas Dekker, Mimi Michaels
Language: English
Country: USA
Also known as: Chromeskull 2: Não Descanse em Paz, Skull, Masacre sangrienta, Похороненная 2

Description:
The second part continues the story first. Chrome skull transported to the hospital and sew his new face. Apparently, the maniac in this film is also special as Freddie. He can't be killed and, above all, cannot be arrested. It involves a whole group of people — a group or sect.
Because the surviving victim — the very "Laid to Rest" in the beginning was killed, Robert Hall had to urgently seek a replacement. Main heroine is a girl sanusha may be stored on video. In this respect, the Skull is much more common ground with her — he also takes the camera, and also sees the bad (good to see after the events of the 1st part is simply impossible). In the story he steals the girl from home and keep in their stock. The majority of the killings makes his assistant Preston. Among other things, in "Laid to Rest 2" active secondary protagonist of the first film Tommy.
Assistant of the Skull was played by Danielle Harris. The ending alludes to the third part, which, apparently, will be devoted to finding Jess… If we talk about the quality of this film, he has gone far from the original paintings — all the same video, the same video. This is a simple slashers. The conflict inside the story contains, but it is not disclosed, so we cannot say that "Laid to Rest 2" in itself carrying something. If subsequent sequels will write literate scripts, the movies will be able to travel.
Continuation has turned out the way I expected. For me — worse than part 1, but better than much of what I took in 2011 in this genre.
Screenshots
Download