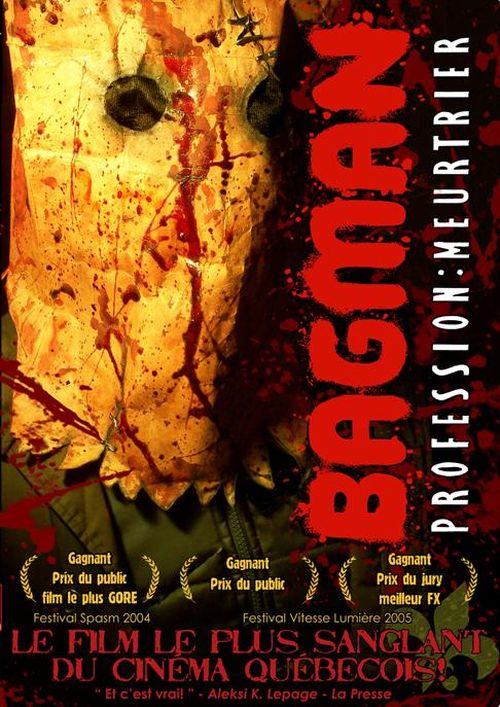 Year: 2004
Duration: 19:05
Directed by: Jonathan Prévost, François Simard
Actors: Alain Bakayoko, Jimmy Beaudoin, Dave Bellerive
Language: English | French
Country: Canada
Also known as: Bagman – Operation: Massenmord!, The Bagman – Profession: Murderer, Le bagman – Profession: Meurtrier

Description: The girl who miraculously survived in a bloody massacre, tells the police about the terrible maniac Bagmane whose name cannot be pronounced three times. Otherwise..!
Canadian microbudget short film is a childish joke in its pure form, from boys and girls, to Odori watching maniacly of horrors. Collected from pocket money two pieces of bucks, adult children withdrew a small black parody of the genre of "slasher", in which the fake blood and more meat than in the original "Friday the 13th", "the Texas chain saw massacre" and "Nightmare on elm street" together. However, this is only a statement of fact, not the complement as "Bagman" – a film so nauseating, vulgar and idiotic that I don't want to recommend watching it to anyone.
Trinity Directors purposefully shot the rabid nonsense, trying to make it staggeringly witty and funny, but actually turned out to be almost nesmotribelny, sane and sober, sewer, with the beyond-toilet humor and exaggerated oligomerizes violence. Any taste, artistic vision and sense of proportion of Directors is completely absent, but in excess of the clinical tomfoolery and blood lust.
"Bagman" – movie, filmed "creative scumbags" for the same "audience scumbags". It is fair to say that in the context of the beyond the bloody trash the kids exuberant imagination, and some fleeting episode of the film may even unwittingly libnut, but in General this is a bad bad taste, which will not become crazy Trinity Directors pass a great movie.
I personally, as a fan of the genre "horror", see in this Kinopalace certain drive, rowdy enthusiasm and the desire of the founders to make a "fucking bloody and funny movie, but really this movie is not for the average viewer, but for "stoned in the stuff of idiots". What debilities art house.
Screenshots
Download
Le bagman – Profession: Meurtrier