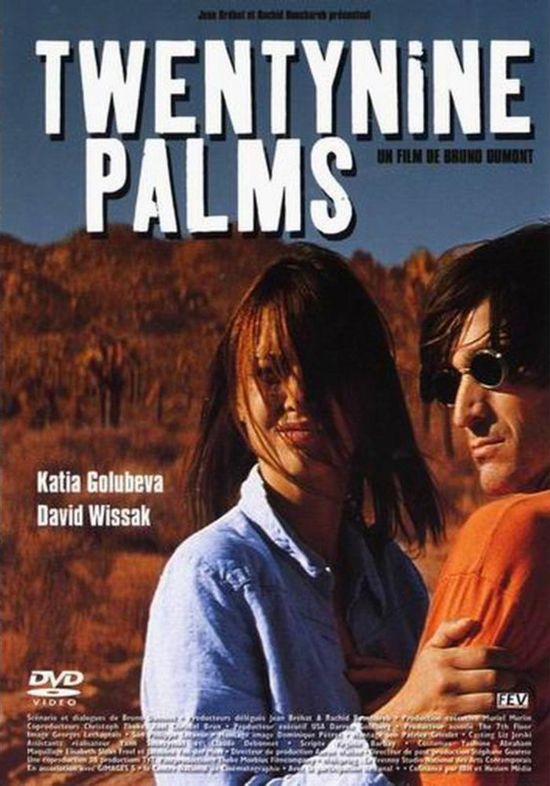 Year: 2003

Duration: 01:54:02
Directed by: Bruno Dumont
Actors: Yekaterina Golubeva and David Wissak
Language: French | English | Russian (only a few words)

Country: France | Germany | USA

Also known as: 29 Palms
Description: American photographer David and Russian girl Katya leave Los Angeles and go to the desert in search of beautiful views for a magazine photo shoot. Staying in a motel in the town of Twentynine Palms, they all day romp in a jeep on nameless and endless roads, discover the National Park "Joshua Tree", is almost constantly making love, quarrel, make peace and otherwise enjoying life … as long as they are "vacation in Paradise "is not interrupted by an eerie and mysterious event …
Review: I was always interested copyrights horror, trying to break the usual cliches in the genre. Picture of Bruno Dumont's "29 Palms", which is a mixture of erotic psychological drama and unusual, but creepy horror, I looked for a long time, but the film is distinctly remember to this day.
The first half of the film, in which the photographer David and Russian model Katia indulge in sexual pleasure in a small town with a beautiful name 29 Palms, filled with unusual symbols. Behind the calm and hedonism hiding some anxiety, anticipation of something painful and tragic. Bruno Dumont, unpretentious work by Georges Leshaptua operator creates the necessary tension to the shocking denouement, easy obyasnimo terms of internal logic.
The emptiness of the surrounding landscape is the embodiment of the spiritual emptiness of the protagonists, who did not understand the true nature of love. Love should not be an endless hell, full of suffering, both spiritual and physical. Actors literally physiologically live life of his characters, mesmerizing film and pushes at a time, but it's definitely worth a picture.
So, if you are looking for unusual and extreme radical horror, the film Bruno Dumont's "29 Palms" will not disappoint. The rest of the audience this picture, I would not recommend.
Screenshots:
Twentynine Palms (English subs)