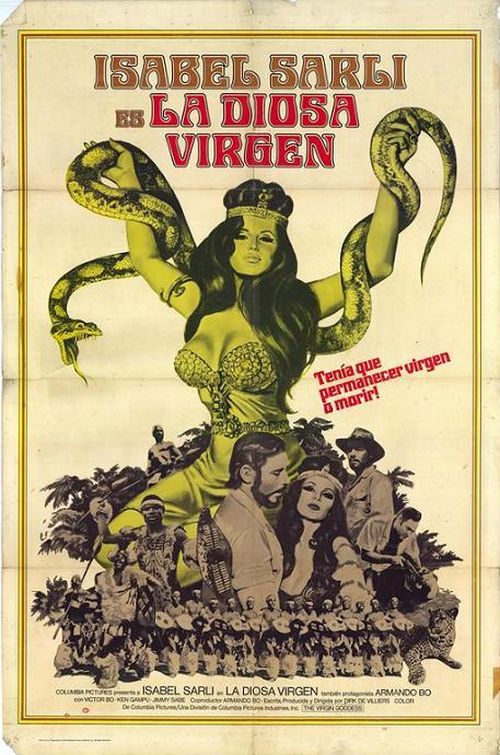 Year: 1974
Duration: 01:21:09
Directed by: Dirk de Villiers
Actors: Isabel Sarli, Victor Bo, Ken Gampu
Language: English | Swahili
Country: South Africa | Argentina
Also known as: La diosa virgen
Description:  Erotic reworking of the Ridder Haggad classic She starring big busted beauty Isabel Sarli as a white goddess of an African tribe who has life eternal as long as she remains a virgin. When a white explorer hears of the legend he sets out to find her and when they meet her lust is awoken. The only film Sarli made not directed by her husband Armando Bo. Directed by Dirk Devilliers. Film runs 81 minutes.
The print is a little soft but can still be enjoyed and is in English language with Spanish subtitles.
Review: Isabel Sarli (The Lady Is Back) , becoming a star in his native Argentina , has remained virtually unknown outside it. What , in other matters , is not surprising – because she only acted in the films of her husband Armando Bo and only in his native country and some of its neighbors : the action takes place in a number of films Paraguay, Brazil, and even quite far from Buenos Aires, Mexico. But there are no rules without exceptions. Once Isabel , still played a major role in the film , set on a different continent , and this film was for her in many ways unique.
First, the " virgin goddess " was released worldwide distribution giant American «Columbia Pictures». Secondly , the film was shot in the fantasy genre , with whom Isabel before dealt only once and then only in fragments – in the film «La Embrujada» (« Bewitched "). Third, only the second time in my life Koki she acted not from her husband . And finally, fourth , designed for a wide release and minimum age restrictions did not allow Sarli picture full screen display their greatest advantage.
As a result, the South African film director Dirk de Villiers actress appears on the screen unusually awkward and even the presence on the set of her usual partners: Armando husband and stepson Victor – not allowed Isabel to show itself in all its glory. And age , like it or not , began to toll – on the eve of the fortieth anniversary of conquering Hollywood Koke was already too late . One way or another , but the " virgin goddess " in the filmography of the Argentine left casus curious , interesting experience – but no more. Haggard's free adaptation of the novel "She" was too bland to interest viewers around the world , adventure heroes – too conditional, and Sarli was not able to transform into a mysterious goddess African tribe . Is that the tradition of her films with Armando been followed consistently – no happy-ends . But this bar was unlikely to attract accustomed to the other finals and unfamiliar with the principled Argentine public.
One way or another , but to show Cocu in all its glory Dirk de Villiers could not. But he managed to another – " virgin goddess " attracted close attention to African customs and traditions . The rituals and dances of the tribe White Goddess Madzhidzhi occupy a significant screen time shot with knowledge of the case and look very realistic. Of course, one could argue that was directed by the same not ethnographic sketch , and fantasy story, but the spirit and atmosphere of the story is largely determined by African ritual dances, carefully carried over to the screen drill. That is why the heroes , trapped in a world of rational world of magic , so easy to accept the reality of witchcraft. And along with him in this reality and the audience believes .
But if you believe in the magic of the characters , the main actors do not. Victor Bo and remains a hero-lover , whose role firmly rooted to him with a naive smile and a dog , sad eyes . And Isabel entire film as if by habit, waiting for the moment to fall into the arms of her stepson , as happened in dozens of pictures, and forgets that the heroine of her more than five hundred years old – and well at least try to portray anything other than accumulated over the years of pheromones . That's just De Villiers did not know the actress as good as Armando Bo knew her , and did not know how to turn the disadvantages into advantages. As a result , the image of the White Goddess remained stillborn , and the love affair has not received any explanation . Yes and development too.
" The Virgin Goddess " could not be anything more than a sketchy fantasy movie with formulaic characters, who enliven the only luxury ethnographic studies so memorable image of an evil shaman macula, linked his soul to the virgin goddess and carefully guarding it against any temptation for centuries. While not appear eager big and pure love of a young man , had heard plenty of magic legends over a beer , and not all messed up .
Screenshots:
Download: