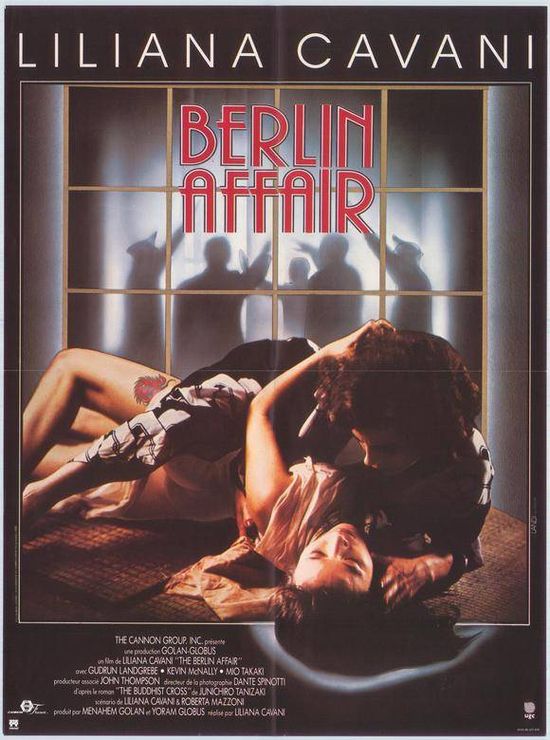 Year: 1985
Duration: 01:55:47
Directed by: Liliana Cavani

Actors: Gudrun Landgrebe, Kevin McNally, Mio Takaki

Language: German (French sub)

Country: Italy | West Germany

Also known as: Liedenschaften, Berliinin varjo, Berlins skuga, Verolineziko trigono, Interno berlineze, O Caso Berlim, Affar i Berlin, Berlinska afera

Description: Very strange film , strange at first to the last frame. As the story begins to be drawn from the first frame . We show the woman who , while on a drawing lesson , rather than to depict nudes , painting features a Japanese girl sitting opposite. She is graceful, like a porcelain say about this Japanese girl . And the heroine falls in love, she loved her as much as anyone , and never loved. But the Japanese are not as straightforward as it might seem. Soon she caught in their nets and husband of the heroine , and then starts to give him a strange powder.
It seems to be simple at first glance the story , but it was not there . It takes place in Berlin in the mid 30s . And because a policy , there is a party led by the Fuhrer , and they do not accept just such bisexual relations and especially same-sex love . And that means they need to run, to save their souls , which is surprising heroes do not come to mind to leave and return to their seats . Sad ending , and can there be in such a relationship a happy ending .
The film is simply impregnated various eccentricities . Strange Japanese Mitsuko whose actions are very difficult to understand , it is totally unpredictable in each frame. Strange husband who loves his wife and is so afraid of condemning the party , but still goes on this relationship . A strange powder that is consumed characters . A strange ending.
But it makes me an oddity for the umpteenth time to watch this movie . And a huge plus is the presence of sensuality and sexuality that exudes every moment of the picture.
Perfect movie filmed by director of Night Porter and Helltrain for fans of strange stories of love.
Screenshots:
Download: