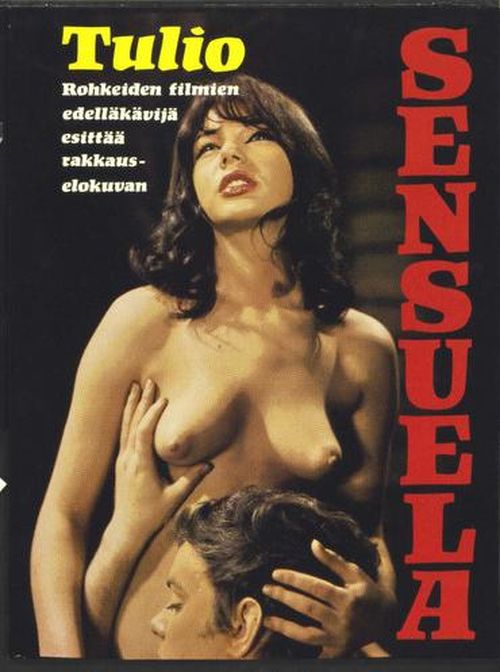 Year: 1973
Duration: 01:44:33
Directed by: Teuvo Tulio
Actors: Marianne Mardi, Mauritz Åkerman, Ismo Saario
Language: Finnish (English Subtitles)

Country: Finland

Also known as: Aslakin tytär
Description: 
Wow ! Sometimes passion rarity films allows me to look for the real unrecognized masterpieces. These films, without a doubt , is " Sensuella " Teuvo Tulio . At first glance , the film may seem crazy Finnish thrash . To a certain extent, the way it is . But , all in order .
Teuvo invested in the picture is much more meaningful. This is the author's interpretation of " The Station Master " by Alexander Pushkin. The action moved to the Finnish village, and a brave hussar Minsk replaced by a German pilot , crashed . Caught in a strange Finnish village , along with an elderly hunter and his daughter – the pilot falls in love with her. Then we follow their romance for a long period of time. Of course the war is already long gone .
Tulio gives priority to sex. The abundance of sex scenes should not embarrass anyone – it is obvious that the director balances , mixing several genres. That only is the scene of the meeting of heroes after a long time : he and his wife , and she – the star of the BDSM show. Classical music as an accompaniment enhances the psychological effect. A little- known in the Russian Finn Turkish origin named Tulio creates a real trash – sekspluateyshn by Russian classics . Tulio can be compared with Russ Meyer or Almodovar . As an analogy, you can bring "High Heels " Almodovar or «Mondo keyhole» Jack's Hill , but the originality , freshness and novelty of the Finnish director is difficult to deny .
However , in my opinion Tulio was inspired in a different movie. " Postmaster " Gustav Ushitski , was released in 1940 and won the prize of the Venice Film Festival was very psychologically intense. The film was full of unambiguous hints of eroticism , which allowed a very free interpretation of the story.
I am sure that the " Sensuella " Tulio built it on the foundation of " postmaster ". The fact that only hinted at Ushitski , has been fully developed in the film Tulio .
And eroticism Tulio , in truth , quite unobtrusive . Explicit scenes will enhance the effect produced by the picture , nothing more.
Additional color added to the Finnish forest landscapes and scenes with deer . The father of the protagonist will execute upon them a memorable ceremony .
The result: a very strict and modest plot of Pushkin's " The Station Master ", hardly meant the establishment on its grounds sekspluateyshna . But Teuvo Tulio really surprised me . His film does not look like a simple sekspluateyshn . This is a very sophisticated trash, anticipating the appearance of Almodovar . Love is not everything, but can only guess would have liked this film adaptation of Pushkin . We only know that he had a excellent sense of humor and irrepressible temperament …
Screenshots:
Download: