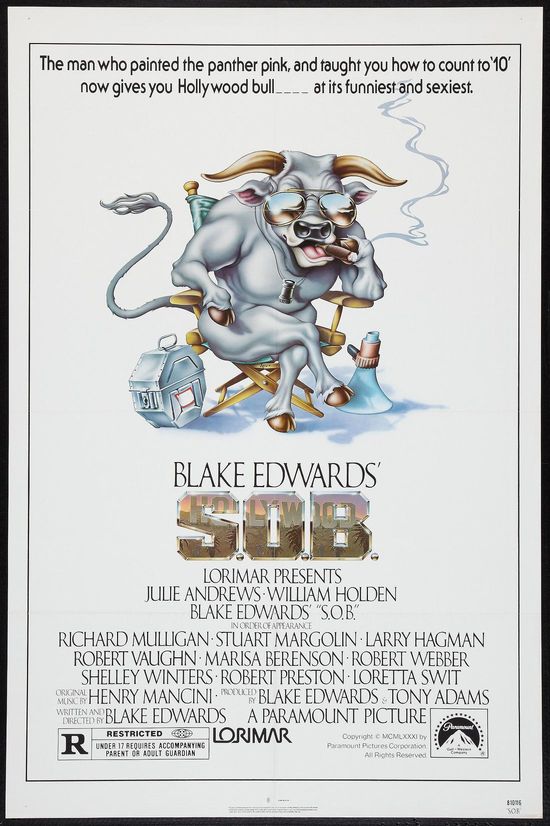 Year: 1981
Duration: 02:01:12
Directed by: Blake Edwards
Actors: Julie Andrews, William Holden, Marisa Berenson
Language: English
Country: USA
Also known as: Se acabó el mundo, S.O.B. – Hollywoods letzter Heuler, S.O.B. Nos Bastidores de Hollywood, højt skum, Hollywoodi viimane veidrik, Kuckini sinovi, La gran profesión
Description: S.O.B. is the last movie Felix Farmer fell with a crash – and start the usual Hollywood mechanism: are caused by agents, employed lawyers are ordered articles.
Review: Felix Farmer – successful Hollywood producer . He produced a lot of hits, is married to a movie star , actress Sally Miles, has all the trappings of luxury goods such as expensive homes , cars , etc. But one day , Felix put a movie called "The Night Wind" , which cost the studio a lot of money . But the film flopped at the box office. Studio bosses are furious , and Felix had lost his mind .
Hollywood film illustration harsh laws. If you do cash hits – you are respected and needed by all , as soon as the failure of the film – and you jerk or who do not need it. Here and here . As soon as the "Night Wind" fails, studio bosses are already thinking about how to rewire the film, while withdrawing from the contract with the author.
But when Felix came a great idea to re-shoot the film with " nudity " and there was a rumor that a movie can make a profit , the studio of bending over backwards that would get this masterpiece .
To be honest, from director Blake Edwards expect a sparkling humor , and not a comedy disguised satire on Hollywood life . The film is an anecdote , like and not very funny , but quite witty.
It is necessary to pay tribute to the female lead – Julie Andrews (part-time director Edvadsa wife ) that is not afraid to expose the thirties in the frame chest.
Screenshots:
Download: