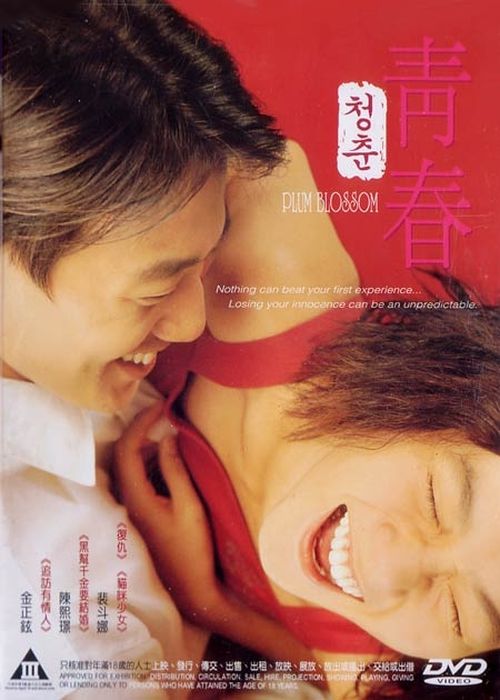 Year: 2000
Duration: 1:45:20
Directed by: Ji-kyoon Kwak
Actors: Hee-kyung Jin, Jung Hyun Kim, Doona Bae
Language: Korean, English Subs

Country: South Korean

Also known as: Cheongchun, Ciruelo en flor, Private lesson – Aoi taiken, Plum Blossom, Youth

Description:
In this erotic, South Korean, coming-of-age drama, high-school senior, Ja-hyo  Kim,  has his first sexual experience with  his classmate, the lovely, seductive, Ha-ra.   After having sex with her once, Ja-hyo rejects Ha-ra's further advances, causing  her to kill  herself.    As Ja-hyo  is experiencing the pangs of young love, his friend, Se-in, falls in teen-age love with his beautiful poetry teacher, who moved into his family's house.  When starts to  force himself on her, she is kind, reminding him that she is his teacher and he is her student – a relationship that makes his wishes  impossible.  Both young men are consumed by sex;  both young men are growing up.
Two years later, Ja-hyo,  and Se-in are now roommates in college and continue to compare notes about women and sex.
Ja-hyo, who has been having meaningless sex with several different women, contracts an STD, which results in him getting a shot from Nam-ok, a cheerful,  cute, flirtatious nurse.   As soon as Ja-hyo is cured of the STD, Nam-ok proposes that they see each other socially.  Ja-hyo agrees  and they wind up in bed together. Afterwards,  Ja-hyo again withdraws from a relationship, but Nam-ok continues to purse him, eventually breaking down his barriers.  Even though they have once again become lovers, Ja-hyo refuses to commit and they break up.  Se-in, too, has become more sexually experienced, but has never given up his love for his high-school teacher.  After writing her letter after letter, he returns to his high school, where he again approaches her.  This time, she is receptive, and they, too, become lovers.  Afterwards, she tells Se-in that he is too young for her and that he should stop sending her letters. Crushed, Se-in gives up hope.  In contrast, Ja-hyo finally figures out that there is more to life than just sex and that  he must learn to commit.
Plum blosom is a rare film not for everybody. Rather peculiar, heavy, depressed and too overdone, but is quite suitable for one-time view.
Screenshots
Download