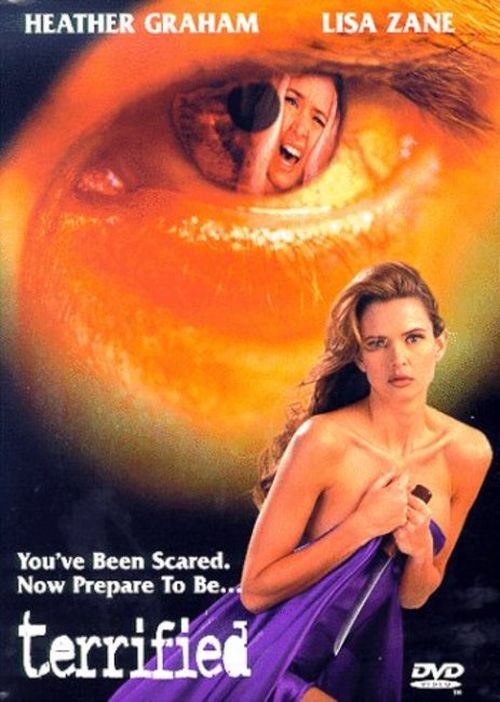 Year: 1995
Duration: 01:24:07
Directed by:  James Merendino
Actors: Heather Graham, Lisa Zane, Paul Herman
Language: English
Country: USA
Also known as: Evil Never Sleeps, Terrified, Angriff aus dem Dunkeln
Description:  Heather Graham stars as Olive, a woman traumatised after witnessing her husband shoot his lover before turning the gun on himself.  When she later answers the door to be greeted by a punch in the face suspicion initially falls on her dead husband's brother. However, despite staking out her home the police are powerless to prevent further assaults, failing to catch her attacker, or even find evidence of his existence.
This is in large parts a slow paced film, which has the feel of an adapted stage play, one that appears to have been badly under-rehearsed. Delivery of lines is often stilted, which is especially unfortunate as parts of the film are very talky.  With large chunks of the dialogue it's hard to tell if people are struggling to improvise or if they're just really bad at delivering their lines. Things look like they're getting interesting when Olive starts playing tonsil hockey with her friend Pearl (Lisa Zane) but just as things begin hotting up the action cuts to this. with all the good stuff in between left out.  Goddammit, if I wanted to use my imagination I'd buy a fucking book!  In a later scene she does sit on some lucky actor's face, but resolutely (and uncharacteristically) remains fully clothed.
And things are further enlivened by the regular outbreaks of violence, leading up to a brutal, if not exactly unpredictable, climax.  If nothing else, I guess this is one for Heather Graham completists – come on, I can't be the only one!
Screenshots:
Download: