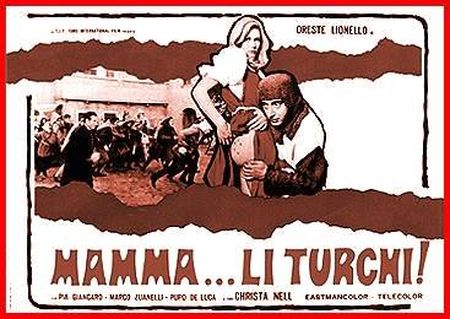 Year: 1973
Duration: 01:24:01
Directed by: Renato Savino (as Mauro Stefani)
Actors: Oreste Lionello, Pia Giancaro, Marco Zuanelli
Language: Italian
Country: Italy
Also known as: –
Description: A turkish young man is endowed with an extremely large penis and a permanent erection.
Some Crusaders are called upon to protect the Italian woman from this "Turkish gift" as well as the very horny king,
What follows is a sexy comedy loosely based on the Decameron.
Super-rare decamerotic movie! It's taken from a private cinema; video quality is really good – apart from the first few mins -, audio is however quite echoey. This is the best we can get – for a long time, I guess…
An "exceptionally gifted" turkish boy. A troop of crusaders (very Pythonesque) appointed to rake up all the women and save them from the "gifted" turks. And a very horny king…
These are the elements of one of the least-seen decamerotic movies; decamerotic jokes, decamerotic sleaze!
Screenshots
Download