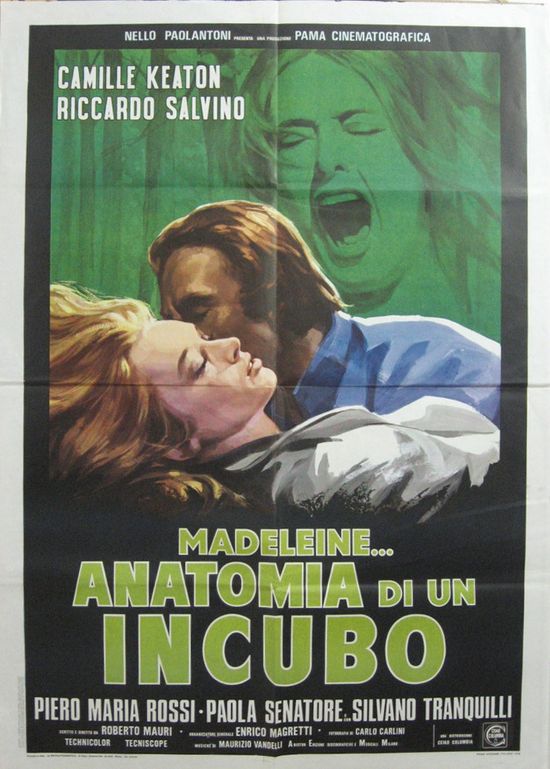 Year: 1974
Duration: 01:40:10
Directed by: Roberto Mauri
Actors: Camille Keaton, Riccardo Salvino, Paola Senatore, Silvano Tranquilli and Pier Maria Rossi
Language: Italian
Country: Italy
Also known as: Madeleine… Anatomia di un incubo
Description: Madeline dream nightmares in which she sees a terrible accident and burnt doll. Her husband, Franz Schumann, the shipowner and the famous all over Europe occultist-lover, trying to help, allows the woman to let go their subconscious. Succumbing to the inner voice, Madeleine gets acquainted with the student Thomas, inviting him to her. Then, she throws herself into the arms of the son of Franz from the first marriage of Louis, erasing the memory that had gone before. But the new meeting with Thomas messes everything up. Suppressed complexes again make their way out, and nightmares come back…
Review: Twilight state of mind, schizophrenia, paranoia, split consciousness – for some reason psychiatric disorders are constantly attracted artists, provoke more and more attempts to open the still-secret lurking in the depths of the human brain and put it up for all to see. And since then, as a good Austrian Dr. Freud linked the almost all psychological deviation of sexuality, besieged by the researchers are come.
Italian director Roberto Mauri (director of Three Golden Serpents) was one of those who, armed with the theory of psychoanalysis, he began to reveal to the audience the hidden corners of the human soul. And, if some of his colleagues (eg, Maurizio Ponzi in the film «Il Caso Raoul») approached the issue from a therapeutic care, fully follow the doctor's main rule of "do no harm", the Maury enthusiastically waving to the right and to the left sharply honed scalpel. The director clearly put its main objective eversion out all possible and impossible symptoms of mental illness, while pursuing a single goal – the same one that put on the stage of a dissecting room.
Name of the painting, however, reported by directly and unequivocally: viewers will be present at a session of anatomy, promising at the same time very juicy details, since the case will have to incubus. During dissection surgeon psychoanalyst will present to the public carefully extracted from the consciousness of the patient details, so that honorable audience inspected on all sides and was surprised when confronted with bizarre freaks like those that float in a jar of alcohol in Kunstkamere. Another thing is that no scientific value like experience does not and is only an idle amusement of the people. Entertainment, similar to the one offered at the time of creation of "Anatomy of an incubus" countless unpretentious performance films that picture Mauri features except that the fact that the "unpretentious" to call it – the language does not turn.
Screenshots:
Download: