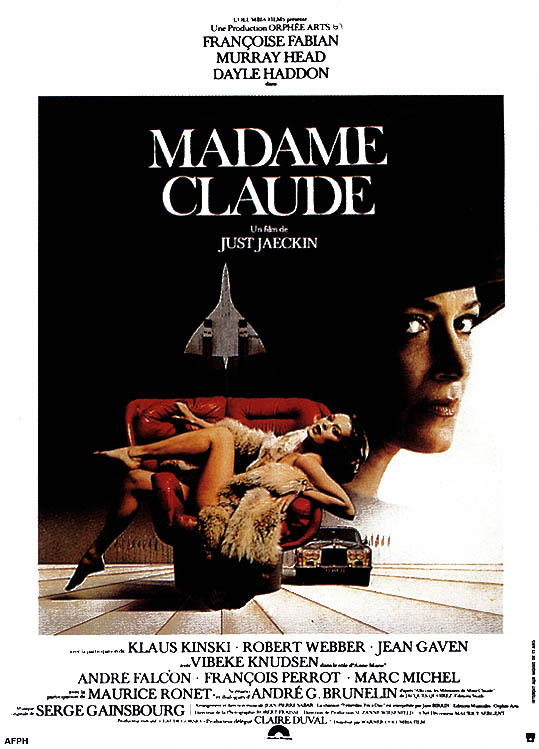 Year:  1977
Duration:  1:46:41
Directed by:  Just Jaeckin
Actors:  Françoise Fabian, Dayle Haddon, Murray Head
Language:  French
Country:  France
Also known as:  The French Woman ,   Hos Madame Claude , The French Woman                                                    , Madame Claude und ihre Gazellen
Description:
After the success of "Emmanuelle" and "the Story Of" Just Zhaken took "Madame Claude". This is a very boring story about everyday life of one brothel — owner of which is Madame Claude. It's confident and purposeful woman, who treats his business as a tool of influence. Because in the brothel come the powers that be.
Next line begins with blackmail, which is the main intrigue of the film. But the emotional component will be revealed while in the frame of two very strong Actresses — Francoise Fabian and Dale Haddon.
The more experienced and prominent Fabian plays the role of Claude. Her character is quite like "the Banker" Romy Schneider — restrained, purposeful, strong and opinionated woman. She will be the heroine to oppose the Haddon is a young, sexy and incredibly similar to Isabelle Adjani.
Perhaps it is due to the participation of famous Actresses provocative scenes in the film, almost none. The erotic scenes rather imposed on the viewer and seem needless. Zhaken took a psychological story about the brothel, adding erotic scenes rather as a sign of respect for the viewer it still works.
But in the genre of psychological detective Director was not expressive. The movie seems very dull and academic, and does not go to any comparison with the previous hits of Zhaken — "Emmanuelle" and "the Story".
In summary: good acting Duo Francoise Fabian and Dale Haddon does not save this boring and insipid movies — trivial story about the everyday life of a high-end brothel
Screenshots
Download