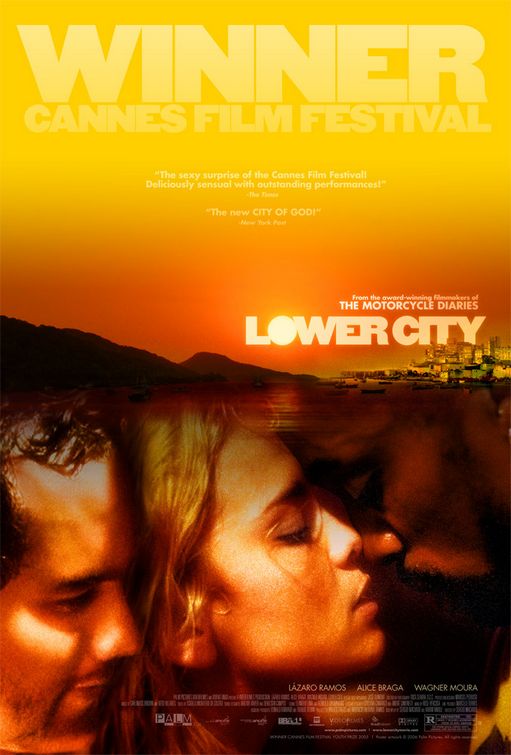 Year: 2005

Duration: 01:38:05
Directed by: Sérgio Machado
Actors: Alice Braga, Wagner Moura and Lázaro Ramos
Language: Portuguese | Spanish | English

Country: Brazil | UK

Also known as: Cidade Baixa, Lower City, Bahia, ville basse, Ciudad baja, Ciudad baja
Description: Karina – a dancer, which by the wish of a customer can go up with him in the room. Two guys are crazy about her, Deco and Naldino. They are friends, but their passion could end not only friendship, but also the life of one of them. After all, the guys have grown, where every conflict is solved by stabbing.
Review: Perhaps the title of the picture speaks for itself. Lower City – the wrong side and the bottom of the human anthill world dirty and narrow lanes, the abode of those who are trying to steal from another day of life, the church of those who sell themselves for the sake of another revival.
But this is only the scene, the scene and scenery, even taken out of real life. For what? Perhaps the passion for the theater. This is the main objective of the director – to show that here, in this "low" position, live feeling, and they have their own, no matter what is not similar in nature.
Trivial at first glance, the story of a love triangle and would remain trivial-soap in the spirit of the majority of Latin American serials, if the director has not changed a bit angle view of what is happening. The essence and the main plus of the movie is that the vector of attention is directed not so much at the actions of the heroes, but on what happens to them, how their feelings change in one direction or another.
Feelings … as has been said, here they are unusual. This, above all, the passion, all-consuming, explosive, even the animals, but from no apparent low. There is no place hints and innuendo. Quite simply, all sincerely, all exposed. Hence the abundance and erotic scenes, and almost no music.
Screenshots: