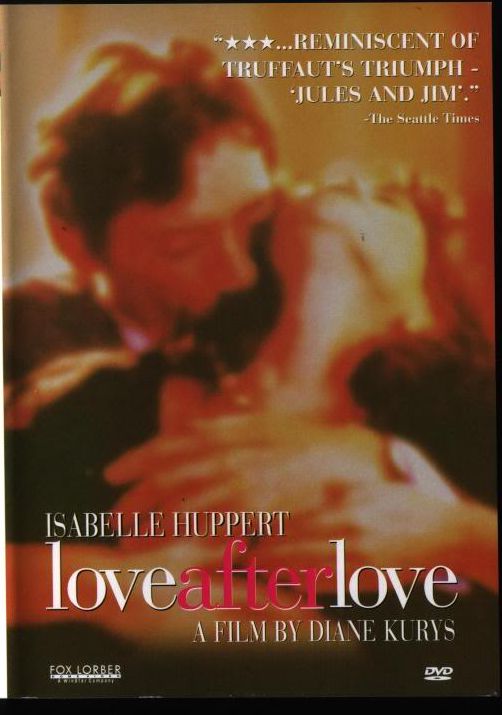 Year: 1992
Duration: 01:40:24
Directed by: Diane Kurys
Actors: Isabelle Huppert, Bernard Giraudeau, Hippolyte Girardot
Language: French

Country: France | Portugal

Also known as: Après l'amour, After Love, Depois do Amor, Nach der Liebe, Después del amor, Rakkauden jälkeen, Le strategie del cuore
Description: Lola and David – is the oddest couple in Paris. Together they have many years. But she finds herself free, is not going to have children and suffers from the love of another. He is torn between Lola and Marianne – the mother of two of his sons.
Once they realize that this life – madness. But before everyone has to go through the suffering.
Review: Initially, all in this film seems unbearably banal – as if all you can come up with something new , talking about the intricate relationships of three couples! Young writer Lola married to David , a businessman in construction, which has two illegitimate sons of Marianne . Lola tying romance with musician Tom , also a family man . And Romain , brother of David , converges and diverges with his bride , until finally marries her. And all this happens during the year – from one day to another birth Lola , just before Christmas. If you do not tune in to the desired wave is the sixth painting French postanovschitsy Diana Kyuris really annoy his story and thematic mediocrity . Because the main thing in this charming and really cute ribbon – slightly ironic tone of the story.
Inevitably, comparisons of the film " After Love" with the English international hit in 1993 – "Four Weddings and a Funeral " (incidentally, he won first place at the box office in France , but the picture Kyuris in 1992 passed well at the box office ) . However, it should be noted that the version of "Two birthday without funeral " – so called for the sake of example this French band – seems more melodramatic . Actually Diana Kyuris started out in film with a nostalgic , but provocative works " Peppermint Pop ", " Molotov Cocktail " and " Love at first sight ." And before the fortieth (" Lover Man" ) and later acquired her style nesuetnoy and maturity. In fact, after a crazy love comes the understanding that people can hold each other close thread only simple human affection.
Screenshots:
Download: