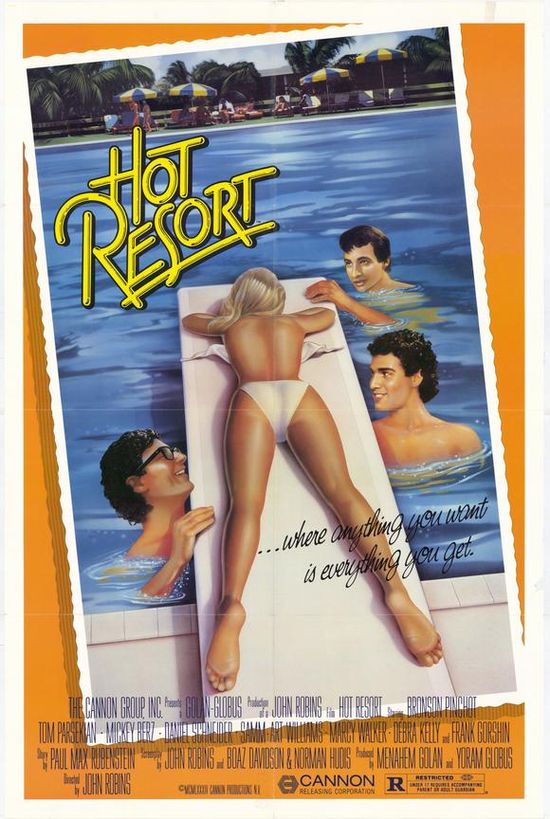 Year: 1985
Duration: 01:31:02
Directed by: John Robins
Actors: Bronson Pinchot, Marcy Walker, Debra Kelly

Language: English
Country: USA
Also known as: Gelado de Limão VI, Heiße Ferien
Description: Four friends arranged servants in luxurious resort, planning to spend the summer, sunbathing on the beach and staring at the beauties in bikinis. And while top manager immediately warns them that about idleness they can only dream of, it turns out that in such a place and you can have fun on the job.
Review: From the original ripper: Me and my childhood friend used to watch his big sister's movies when we were kids and we knew that we have not been allowed to watch her adult movies.. but we did it anyway and this movie was one of them all.
unfortunately that tape does not exist anymore.probably it has been damaged and then thrown away
So i was one lucky bastard who recently found this new on tape.
I have searched and searched everywhere.
Hot resort is one of the most funniest 80`s Teen sex comedies I've ever seen.
The film has never been released on DVD
Probably it will never be..even not as a factory converted to dvd release.
I don`t know what to call it.
For me it was a hell to get this converted to dvd from vhs.
Usually it would not be a problem because i had all the equipment i needed at home and I've done it before.only problem was that the tape was in NTSC format and my entire system was in pal.
it caused a big problem.
But finally I found a solution.
Screenshots:
Download: