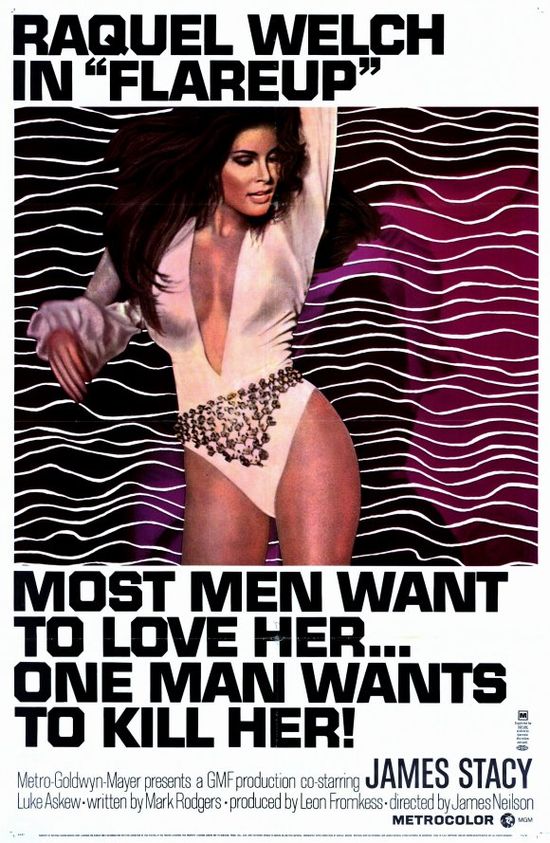 Year: 1969
Duration: 01:37:56
Directed by: James Neilson
Actors: Raquel Welch, James Stacy, Luke Askew
Language: English
Country: USA
Also known as: Sede de Crime | Go-go morderen | Llamarada | Pakene tai kuolet! | Tueur de filles | O dolofonos ton gymnon gynaikon | L'implacabile omicida | Sed de crimen | Perseguidas na Escuridão | Fly – annars dör du! | Tote Bienen singen nicht
Description: Fantastically sleazy thriller in which go-go girl Raquel Welch is stalked by her friend's demented ex-husband, and then falls in love with a parking attendant at a titty bar. Yeah, that's the whole plot. A terrific film, but the real masterpiece is the crazy boogaloo title sequence.
Review: RAQUEL WELCH IN HER PRIME IN '69 GYRATING IN A SEXY OUTFIT AS A GO-GO DANCER. 'NUFF SAID, RIGHT? WELL, DON'T BE FOOLED BY THAT BRIEF SCENE BECAUSE MOST OF THE TIME SHE'S DRESSED IN DEPRESSINGLY DEMURE OUTFITS. FLAREUP EPITOMIZES THE GUILTY PLEASURE MOVIE, FROM THE FAUX BOND-LIKE OPENING CREDITS TO SOME LAUGHABLY BAD ACTING. THE FILM IS DIRECTED IN A CLUNKY, ERRATIC STYLE BY DISNEY-VET JAMES NEILSON AND HE NEVER PASSES UP THE OPPORTUNITY TO USE A ZOOM LENSE OR STAGE A CLICHED SCENE NOT TO MENTION THAT HE ALSO MAKES NO EFFORT TO HIDE A BURNING MAN'S PROTECTIVE GLOVES AND FACE MASK!! HIS FRAMING IS ALSO QUESTIONABLE AS YOU CAN CLEARLY SEE SOMEONE OFF TO THE SIDELINES WAVING AN OBJECT DURING THE MAN-ON-FIRE OR FLAREUP SCENE. SERIOUSLY, WTF GEPPETTO?
LUKE ASKEW DELIVERS THE ONLY HALFWAY DECENT PERFORMANCE IN THIS CAST OF INCOMPETENTS WHICH LOWERS THE MOVIE TO BOTTOM OF THE BARREL FARE. IT COULD ALMOST QUALIFY AS A NOIR IF NOT FOR ITS FOR-HIRE DIRECTION AND THE NEON CIRCUS THAT INFORMS EVERY FRAME. STILL, RAQUEL'S GOT THE CURVES AND SHE SURE SHAKES THE HELL OUT OF THAT STRIP-JOINT STAGE. THIS ALONE, WARRANTS THE WATCH.
Screenshots:
Download: