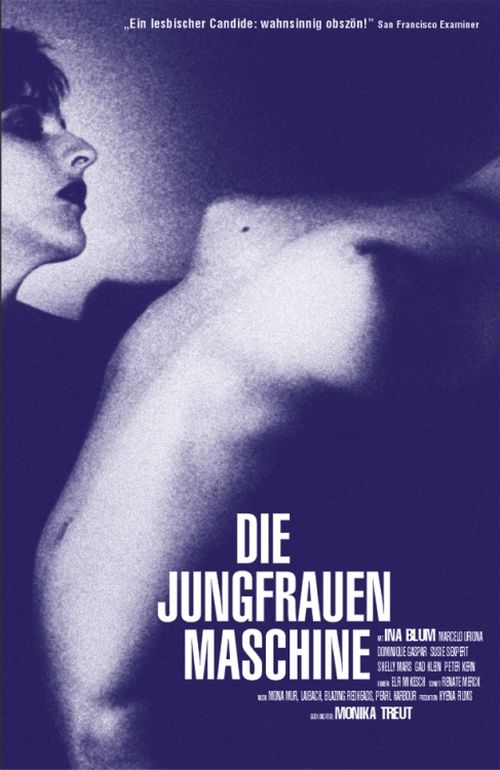 Year: 1988
Duration: 1:22:19
Directed by: Monika Treut
Actors: Ina Blum, Marcelo Uriona, Gad Klein
Language: German with embeded English subs. 
Country: West Germany
Also known as: Virgin Machine, St. Pauli Girl
Description:
I'm always leery of films that purport to 'stand for something' or 'give voice to an invisible population,' because they often neglect aspects of moviemaking that I find valuable like 'story' or 'cohesion.' Underground filmmaker Monika Treut runs back and forth between these aspects in her languid and frustrating effort Virgin Machine, a film that indeed lends voice to the voiceless while doing little else but look good.
Virgin Machine chronicles a short period in the life of a German hottie who finds she may be addicted to romantic love. Finding the boys in Munich to be mere diversions, she sallies forth to San Francisco, under the conceit that she's writing an article on Romantic Love. Amidst the sleazy denizens of San Francisco's Tenderloin district, our heroine Dorothy discovers lesbian strip-clubs and the possibility of true Sapphic romance.
Unfortunately, Dorothy's sexual and emotional awakening proves to be something of a sleeping pill for the viewing audience. The sensual atmosphere, all charcoal grays and deep, dark pools formed by women's eyes, bleeds into the periphery of the city's concrete underside, lulling you into a somnolent bliss that almost makes you forget nothing is going on. Misplaced documentary tactics are partly to blame for this drastic slowdown. A burst of energy from noted sex-scholar Susie Sexpert – the White Rabbit to Dorothy's Alice – becomes a lengthy treatise on femme sex-work notions, informative but coming from so far out in left field that it nearly fatally derails the film. As Susie talks directly to the camera, we might be interested/ shocked to learn that stripper/ porn star Candy Samples' breasts weigh 30 pounds apiece, while wondering when this narrative became a series of interviews.
Other lengthy sequences set in a strip club not only scream 'documentary,' they also scream 'tedious, amateur documentary' while aimlessly scanning the butch Betties and leather Louises in attendance. Worse, just about 20 minutes is then left for the clever, off-hand plot/ resolution that caps the movie.
Virgin Machine has the power to quietly dazzle with a luscious black and white look, but neglects to deliver any drama with its message of lesbian liberation. Like a stripper crudely and methodically peeling garments, Virgin Machine misuses its time by showing and telling to make a point, creating a subtly pedantic mix that's neither fish nor fowl. Director Treut would do well to devote her obvious talent to crafting a story that gradually reveals its heart and soul

Screenshots
Download