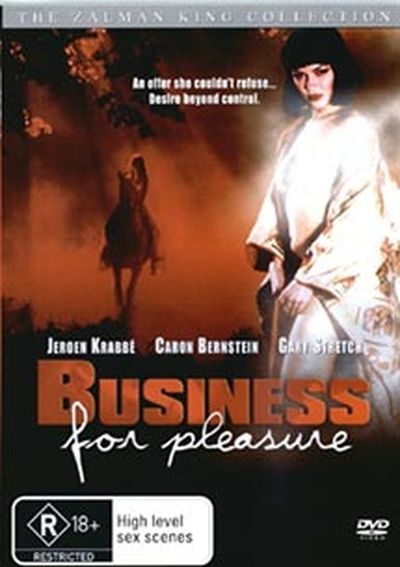 Year: 1997
Duration: 01:32:21
Directed by:  Rafael Eisenman
Actors: Caron Bernstein, Gary Stretch, Joanna Pacula
Language: English
Country: USA
Also known as: Geschäft mit der Lust, Jugando con el diablo, Business & plaisir, Stin kopsi tou pathous, Üzleti örömök
Description:
In this erotic drama  written by exploitation master Zalman King, rich charismatic,  Alexander Schutter heads a company with a terrible environmental record.  The beautiful, shrewd, articulate  Isabel Diaz heads a similar company which is on the verge of having to close its doors but has an excellent environmental reputation.  She proposes a merger under which her company will be financially secure and Alex' company will be able to trade on her company's environmental reputation.  He agrees to the merger on one condition:  Isabelle  must bring two prostitutes to his hotel room to make love to his chauffeur while they watch.  Isabelle agrees, but when one of the prostitutes fails to show up,  Isabel takes her place.
The substitution is acceptable to  Alex, so the merger takes place. Isabel and Alex continue to see each other socially, but their relationship is not sexual.  Instead, Isabel  and Alex' right-hand man, Rolf, become lovers,  while Alex satisfies himself by watching them have sex.  Gradually, Isabel is drawn deeper and deeper into Alex' bizarre sexual world – a world spinning out of control from which Isabel must try to extricate herself.
Review: On the verge of despair and financial ruin subtle beauty Isabelle refers to Shatter influential businessman who can save her company. He agrees to help on one condition: either Isabelle leads two women in his hotel room and watches as they make love with his chauffeur, or no deal will not happen.
Isabelle orders two prostitutes and sent documents to Shatter. But the plan breaks down, one of the prostitutes do not come, and Isabel decided to take her place.
Screenshots:
Download: