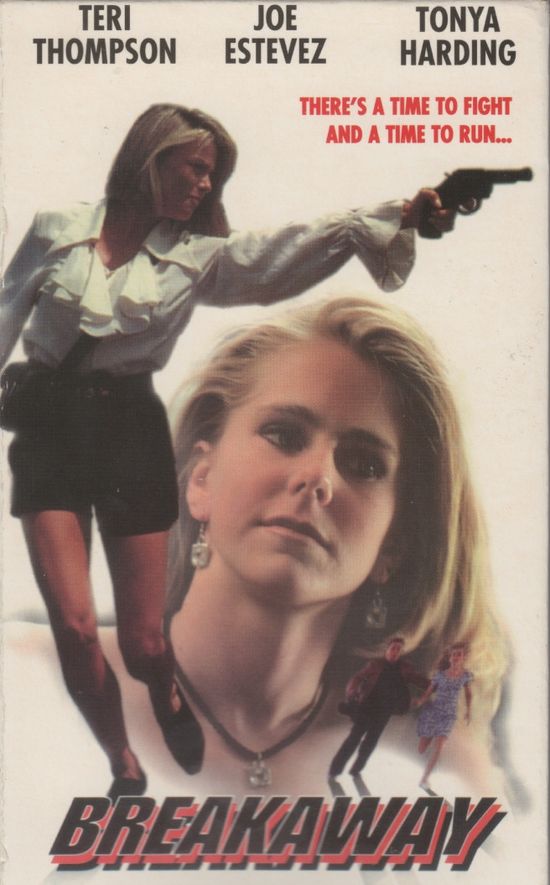 Year: 1996
Duration: 01:35:18
Directed by: Sean Dash
Actors: Teri Thompson, Joe Estevez, Tonya Harding
Language: English
Country: USA
Also known as: Fuga Alucinante,Flucht in die Hölle,I katadioxi
Description of Breakaway:Myra (the amply legged Teri Thompson) just wants out of the game.  Tired of her mafia courier career choice, she decides to quit.  The problem, her boss, Anton (played as well as you would expect from the brother of the director/writer) doesn't like loose ends.  So when he double-crosses her, she takes the money and runs.  But not before she bumps into good samaritan, Rick, which complicates things with her boyfriend, Carter, and his other girlfriend, Gina (Tonya Harding).
Oh, you remember Tonya Harding, the very talented, up-and-coming figure skater, who in 1991 was the first woman to complete two triple axels in a single competition and in 1994 made the US team going to the Lillehammer Olympics.  Turns out, she had her ex-husband and some others attack a lady named Nancy Kerrigan, her chief competition to the US skating team.  Oops.
Now she's a movie star.  Watch her walk awkwardly through scenes like a wooden robot and utter disastrous dialogue.  Or is that talent?
I haven't even mentioned the best part of the film.  Joe fucking Estevez!  He plays Grey, a no-nonsense contract killer with a code.  You know, he is Lawful Evil, like Anton Chigurh or Darth Vader.  Only better, of course.  Grey's code is pretty simple.  Do anything you want, and when asked why, just say, "It's part of the code".  This is the kind of role that is made of J-Vez.
Breakaway…you'll come for the Harding/Estevez teaming, but you'll stay for the clumsy stunts, stilted dialogue, plenty of "seriously, that just happened?" moments, and maybe the stupidest car-smashing-through-something scene ever filmed.
Screenshots:
Download: