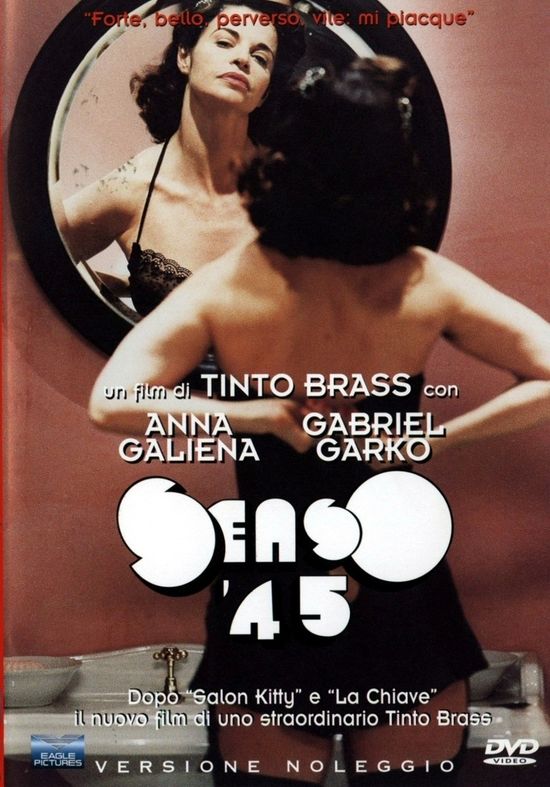 Year: 2002
Duration: 02:02:05
Directed by: Tinto Brass
Actors: Anna Galiena, Gabriel Garko, Franco Branciaroli
Language: English (Dubed)
Country: Italy
Also known as: Senso '45, Angelo nero, Black Angel

Description of Senso: A film about the passion that the heroine insists on calling love. Passion burning , burning and scorching soul down. Passion, instantly transforming into hatred and death carrier . Black Angel of passion and hatred, is punishable by death one who yesterday was still passionately love , adore and desire. Yes, yesterday … But today, resentment, humiliation and betrayal made ​​ignite hatred eyes . Passion is never succeeded , she burned the body , but his eyes were cold and dull. They had no life , only obedience and anxiety . Passion lifted on a pedestal, made ​​an idol lover , purpose and meaning of existence. Hatred overthrew him , took the place of passion and thirst for revenge fierce desire to triumph over the defeated idol.
Venice 1945 . March 26. End of the war . 23rd year of fascist era – its decline, its agony . A feeling that the characters in the film , too, the agony , each trying to survive, to live a little bit more . Madly and mindlessly plunging into a whirlpool of passion, desire and lust, as before the end of the world. Very close walking death. Here and there are heard gunfire , go raid the city , where people are dying. Morning , returning with another orgy , Libya passes through the streets , on which lie the corpses of people killed that night. But those with whom she had just parted , they are alive ? All of these soldiers , the SS , prostitutes drinking wine, playing cards , eagerly engaged in group sex and sniffing cocaine – are they alive? There is a feeling that you see orgy dead who just forgot to say that they are actually long dead . The same feeling I encountered when I watched the film " Salo , or 120 Days of Sodom " Pasolini . Once there it was tougher, more clearly . Even the perverse entertainment scene there were much more stringent, severe, repulsive. Association with the film Pasolini calls and mention several times the name itself Salo , where for a while the husband leaves Libya. And of course, that the music for both these films written by Ennio Morricone . Yes, and also the action takes place in Italy , and also in the end of the war .
The screenplay was written by Tinto Brass Camillo Boito 's novel " Feelings ." Forty years of Libya married film producer Carlo , who is 68 years old and she had long been fond of. She is beautiful, she wants to feelings and passions . Once in the theater, she sees a young , 25-26 years , the SS man Lieutenant Helmut Schulz and falls in love with him. Well, of course , a sort of arrogant blond beast with green eyes and sensual full lips . Besides well-known womanizer , never misses a whore . Strong , beautiful , rude , lewd – a dream and not a lover. Between flashes novel, which is now devoted to all life , all the thoughts and feelings of Libya. It fulfills all his whims , pays all his endless gambling debts and gives money to bribe with which buys Helmut help giving him the right to not get to the front . He hates the war , hates guns. And he does not want to die on the front, especially now , when the war was almost over , and life is so much fun ! Libya, giving him money , having fun , believing that thus even stronger ties them together , because it is proof of her love. Yes, it felt sort of maternal instinct . She often repeat to myself: " I ​​have to protect him … to help him ." Protect from her husband and his friends, who do not trust Helmut , rightly believes that it for the money and sell his own mother . Defend with passion for card games , from other women seeking to hog it yourself Hellmuth protect against war , imminent death. But the death of Helmut fears more than anything else . Strange fear for a warrior ? So he does not build a hero ! Thus he Helmut takes her money as payment for her love , rather, for sex. He needs her money and connections , she was – his young body . It is practical and a great bargain . Men and women are fallible in the motivations , desires , expectations and plans of each other. Easy to deceive a woman , because they so easily deceive themselves . But sometimes it can be very dangerous … sometimes deadly.
Screenshots:
Download: