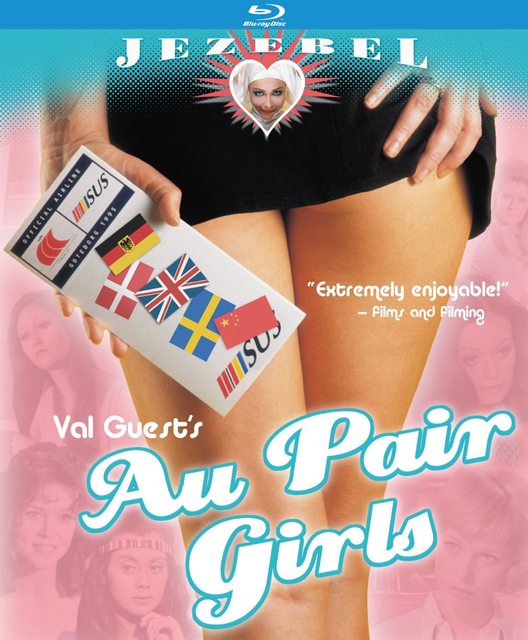 Year: 1972
Duration: 01:20:54
Directed by: Val Guest
Actors: Astrid Frank, Johnny Briggs, Gabrielle Drake
Language: English
Country: UK
Also known as: The Young Playmates | Au pair – tytöt | Le femmine sono nate per fare l'amore
Description: 
This fluffy sexploitation picture is peppered with cheeky British humour and its wafer-thin storyline is merely an excuse to put copious amounts of T&A on the screen. Plot concerns the sexually charged exploits of four expatriate au pairs hoping to make a living in Jolly Olde England. Astrid Frank is a liberated Swedish lass with a fondness for exhibitionism and colour TV who ends up making the acquaintance of a visiting sheik (played by the German comedian Ferdy Mayne who does not look even remotely Arabic) and is soon offered an all-expenses paid luxury suite in his harem. Gee whiz! Then there is the stupefyingly gorgeous Gabrielle Drake (of Gerry Anderson's cult TV series "U.F.O." and sister of doomed folk singer-songwriter Nick Drake) as a Danish bird with a very dodgy accent who also has a yen for exhibitionism and ends up ditching her wet clothes to frolic around starkers in a hayloft, a Rolls-Royce convertible, and eventually a mod photography studio. Far out!
For whatever reason, director Val Guest (one of the six credited directors of the 1967 comedy clusterfuck version of CASINO ROYALE as well as the  brains behind CONFESSIONS OF A WINDOW CLEANER) also tries for pathos and the results are perplexing. There is a virginal German (Nancy Wait) who falls in lust with promiscuous rock star and Jim Morrison doppelganger Ricky Strange (Steve Patterson) eventually being deflowered and tossed aside like so much rubbish into the dustbin. Tears, bitter regrets, and an undeserved reputation as a hussy/slapper/scrubber are soon to follow. Our last story follows fit and scrummy Chinese girlie Nan (Burmese actress Me Me Lai, of MAN FROM DEEP RIVER, JUNGLE HOLOCAUST and Eaten Alive!) as she starts work in a remote manor house and begins a depressing quasi-relationship with an emotionally crippled manchild piano prodigy. After the initial chatting up and shagging period she finds she is on equal footing with one of the expensive toys in her lover's bountiful collection. This particular episode is just sad and unpleasant, making one wish for the relatively lighthearted pleasures of Me Me Lai's jungle cannibal adventures.
Everything gets wrapped up with a final appearance from the randy sheik who seems chuffed to bits with the latest additions to his harem. On an incidental note, most of this film appears to have been shot on George Harrison's lavish estate known as Friar Park in Henley-on-Thames.
Screenshots:
Download: