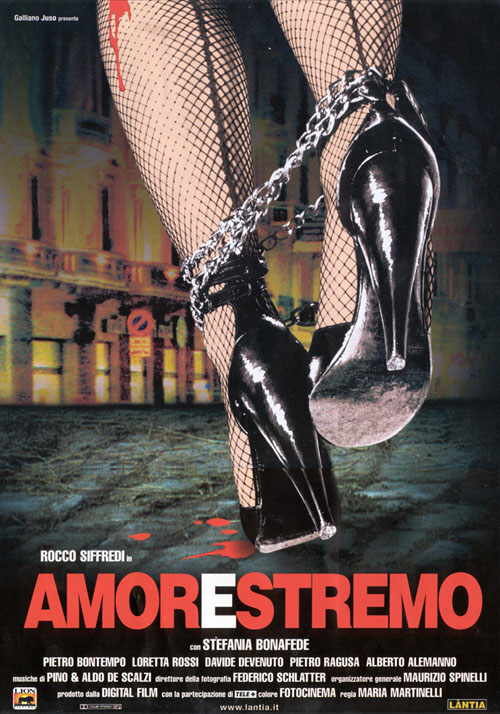 Year: 2001

Duration: 01:36:41
Directed by: Maria Martinelli
Actors: Rocco Siffredi, Stefania Bonafede, Davide Devenuto
Language: Italian

Country: Italy

Also known as: Amorestremo
Description: From the novel "slaves and masters" of Claude Salvatori. An erotic ad leads to a heinous crime. The search for the guilty go on a journey into the world of sadomasochistic relationships.
THIS IS A VERY EROTIC MOVIE. IT DOES DWELL ON THE DARKER SIDE OF S&M FANTASY AND THINGS THAT COULD GO WRONG. THIS IS A GOOD MURDER MYSTERY, ACTING A LITTLE BAD, SCRIPT A LITTLE WEAK, BUT IT IS A GREAT STORY.
THE SEX SCENES ARE VERY STRONG, ALMOST EXPLICIT. THERE ARE NO HARDCORE SCENES. ROCCO DOES SHOW HIS FAMOUS APPENDAGE IN ALL IT'S DIFFERENT 'STAGES'.
Girl meets on the Internet with a young man. They agree on the date, which must be unique for both of them. Finally they can make something that is planned. But after a night of passion girl finds beside the lifeless body of her new acquaintance. That is, their games have gone too far or visited some third party?
Review: Young suffers from an intellectual Xenia complexes and their sadistic attacks of sleepwalking. One day she decides to respond to the ads on the Internet about the masochist acquaintance named Ghost. They agree on a date, which must be special for both of them. Finally they will be able to carry out, what has long planned. But after a night of passion she discovers next to a lifeless body of her new friend. She does not remember anything about what happened. What is this, their games have gone too far or in the room there was someone else?
The film Amorestremo is often marketed as erotic, if you decide to watch the movie for that, then perhaps you will have to choose another movie. There is no sex in the conventional sense of the word, but there is everything around her. The whole world of the film in great detail shows us the other side of the sexual life sadomasochism, dominatrix, heterosexual slavery. During the film does not appear any normal person.
The entire film rests on two lead actors, Rocco Siffredi (Anatomy of Hell) – known in narrow circles of the Italian pornographic and very cute Stephanie Bonafede. It was for her movie worth watch until the end. I note also of the benefits of a decent plot (only within the genre of course), the truth of what is happening (good shooting on location, instead of decorations) and the theme song for the film by the saxophone.
Screenshots:
Download: