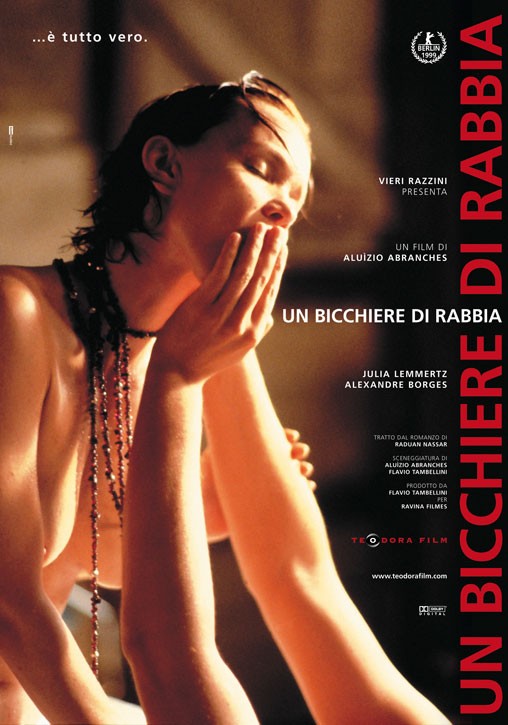 Year: 1999
Duration: 01:10:34
Directed by: Aluizio Abranches
Actors: Alexandre Borges, Ruth de Souza, Lineu Dias
Language: Portuguese (English Subtitles)
Country: Brazil
Also known as: Um Copo de Cólera | A Glass of Rage | Un bicchiere di rabbia | A Fit of Rage
Description:
The first part of the "Glass of Ragee" is one big, gorgeous shot erotic scene. Deserves mention among the best in world cinema. The second part – the furious dialogue between lovers, in their passion is not inferior to what they were in the language of the body. The combined into one half of these were original performance of two actors: Alexandre Borges and Julia Lemmerts, appears in two forms, but in a single image.
This erotic Brazilian movie tells the story of a romance between an unsophisticated, very physical  man  who lives isolated from the world on a small farm  and a lovely, sophisticated, intellectual,   journalist,  Mariana.   One morning, after a night of wild lovemaking, the man notices an anthill near his house.  Upset by this discovery,  he immediately poisons the ants.   While he is proud of himself for exterminating the ants, Marianna is not impressed.   The discord between the lovers increases when he admonishes an employee:  Mariana intervenes, calling the man a fascist.  A heated, far-reaching argument  on subjects as far ranging as the difference between their social positions and sex follows.  The argument only resolves itself when the two again become lovers.
 "Glass of Rage" (sometimes translated as "Fit of Rage")  is a movie with two distinct parts.   The first is one long, erotic sex scene.  The second  shows  two lovers engaged in a furious argument. Together,the two parts create a single image: a film about the attraction between and the struggle of  very different  controlling  people who are lovers.
Screenshots:
Download: