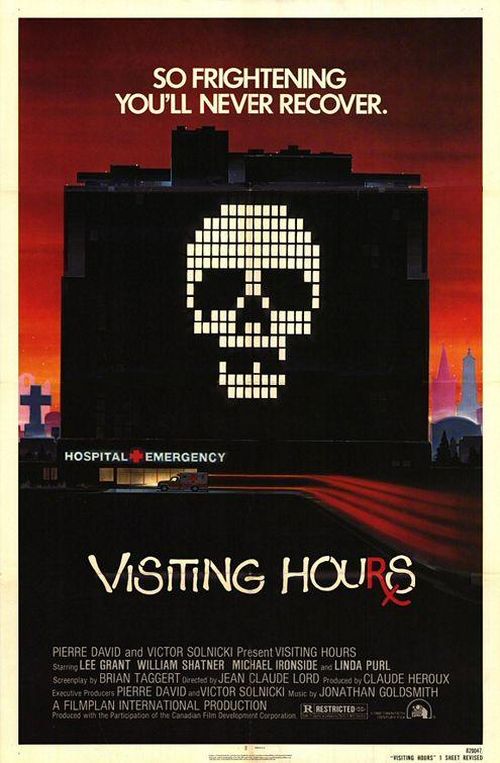 Year: 1982
Duration: 01:45:03
Directed by: Jean-Claude Lord

Actors: Michael Ironside, Lee Grant, Linda Purl

Language: English
Country: USA
Also known as: Get Well Soon, Horror-Hospital, Horario de Visitas, Angustia en el Hospital Central, Terreur a l'hopital central, Hospital del terror, Delitto al Central Hospital, Das Horror-Hospital

Description:Canada sure knew how to churn out the slashers in the early 80's, and this is one of the best of them. It's totally underrated and a personal favorite of mine. Michael Ironside was born to play villains and he gives an amazing performance as the misogynistic psycho. For a slasher, the gore is pretty light (hard to believe this one was on the UK's infamous video nasty list) but the atmosphere is really intense and the suspense doesn't let up for a minute.
Review: TV journalist Deborah Bellin , interested people from the problem of self-defense unmanaged manifestations of violence against them , too, becomes a victim of a psychopath with a rather curious name and surname – Colt Hawker (something like " pitchman Colts "). And after the first assassination attempt this maniac leaves Bellin alone even in the hospital, where she was placed in an intensive care unit .
Blood and subtly cruel Canadian thriller Visiting Hours, still mediocre and imitative in comparison with American samples of this genre ( immediately come to mind "Halloween" and its sequels ) , has caused some interest among the public in the U.S. , managing more than two times to beat your own budget. American viewers as if a little of his own paintings of uncontrolled " killers Ripper "! But critics , fortunately, were unanimous in their undisguised contempt for this tape 38 -year-old director Jean -Claude Lord , which is , ironically , then switched to the production of films for family viewing.
Screenshots:
Download: