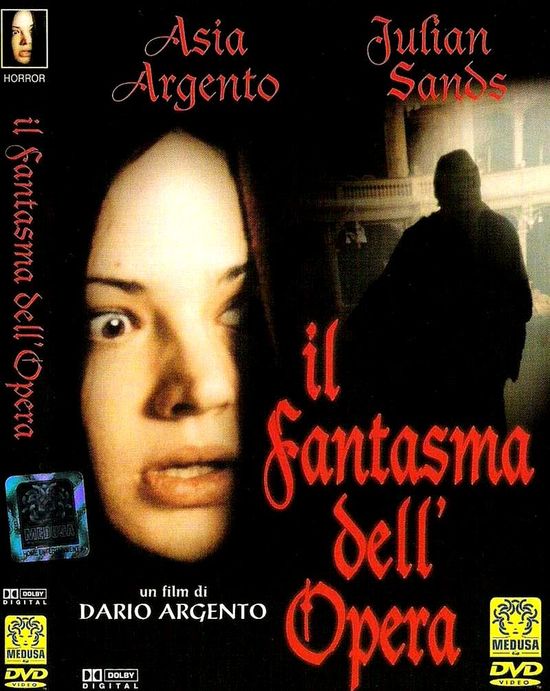 Year: 1988
Duration: 01:39:00
Directed by: Dario Argento
Actors: Julian Sands, Asia Argento, Andrea Di Stefano
Language: Italian | French

Country: Italy

Also known as: Il fantasma dell'opera, El fantasma de la ópera, Dario Argento's The Phantom of the Opera, Das Phantom der Oper, Le fantôme de l'Opéra, O Fantasma da Ópera, Oopperan kummitus, To fantasma tis operas, Um Vulto na Escuridão
Description: Perhaps, the most strange and rough Dario Argento's film (Squillo and Inferno flicks), a transitional stage between his aesthetical 'n' intellectual triumphs of XX century and derivative stuff of XXI century (an unexplicably curved trajectory, but – it is). This project has been nurtured by DA for years, since his youth (well, I suppose that he had to bring up his daughter for the main role). The horror component is very irregular, as opposed to solid romantic one. Comparisons with other screen versions are very fruitful; here is no mask and Phantom's ugliness (Julian Sands as he is), here is a lot of unconventional tropes (organ flues as rat teeth, for example), and traditional  "gothic" Paris à la Valjean's catacombs or splendeurs & misères de la monarchie de Juillet are replaced here by fin-de-siècle glamour, with its Turkish baths, Degas' juvenile dancers etc. One could even consider this film as hommage to French culture (see, for example, De La Tour frame with Asia Argento with candle near the mirror).
Review: Immortal novel by Gaston Leroux Phantom of the Opera was brought to the silver screen many times; the most famous of incarnations is, of course, the adaptation of the eponymous musical Andrew Lloyd Weber. However, here we are not talking about the works of Weber and Joel Schumacher, and about the other, less well-known. It will be about «Phantom of the Opera» Dario Argento.
It seems that's all, and went on: the story about the Opera singer pursued a demon from hell Opera house, just could not raise the heart of the cult classic Italian horror film. Himself Argento admitted in the love of Opera on the screen again. Here, of course, is mentioned first of its splendid giallo «Opera» is a story in itself already performed in the Opera pace. But even if you turn to the other films of the wizard, Opera theatricality of the murders, expression and the pomp of action – practically each of them. Multiply all of the above on the classic story, Argento could get a kind of visiting card – but, unfortunately, it did not happen, and not something, but very much.
Screenshots:
Download: