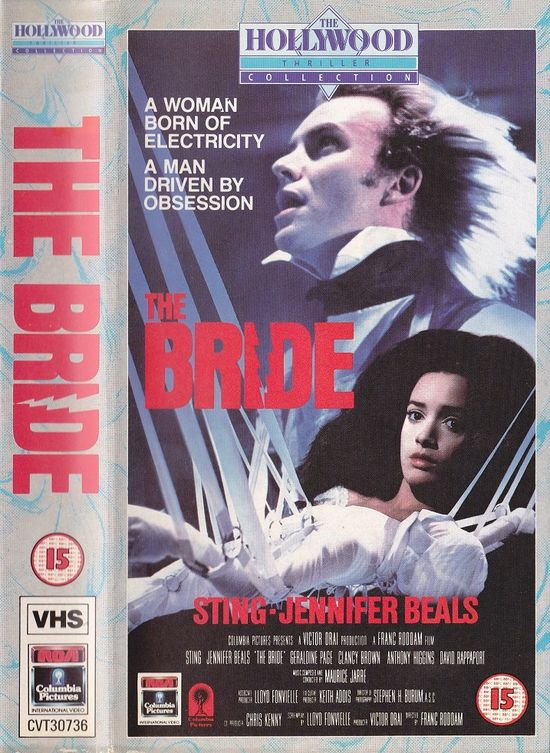 Year: 1985
Duration: 01:54:15
Directed by: Franc Roddam
Actors: Sting, Jennifer Beals, Anthony Higgins
Language: English
Country: UK | USA
Also known as: Die Braut, La prometida, La sposa promessa
Description of The Bride movie: The entire film can not help feeling that something is going to happen . This impression is supported by something like a gothic event, rich interiors of the castle of Count Frankenstein , as well as music that starts to play at times , as in a good horror film , bringing the already rather tired of waiting for the viewer to some interesting event . Unfortunately, all this music and ends – such scenes are cut off , as, indeed, and very " ominous " music .
End of the movie comes unexpectedly , and action , meaning, and even more unbanal in Disney cartoons . Uttermost happy ending for the two creatures (just " Beauty and the Beast ," if handled besides Disney ) and deserved punishment for the creator , ie Frankenstein.
Deep philosophical significance of the book is not worth waiting , the acting does not go beyond " nothing special " , stupidity sometimes rolls (well, as you can for 10 minutes in the direction of a person waving a burning stick and never hit) .
the film Bride is worth watching just for those who like working in the style of " Van Helsing ", " The Brothers Grimm " and " Snow White ." Although all of the above films in all components above the " Bride" . Because sometimes very much like Frankenstein , Count Dracula – arose at night in dark rooms and wore a black cloak with red lining – and I love vampire stokerovskogo –
Screenshots:
Download: