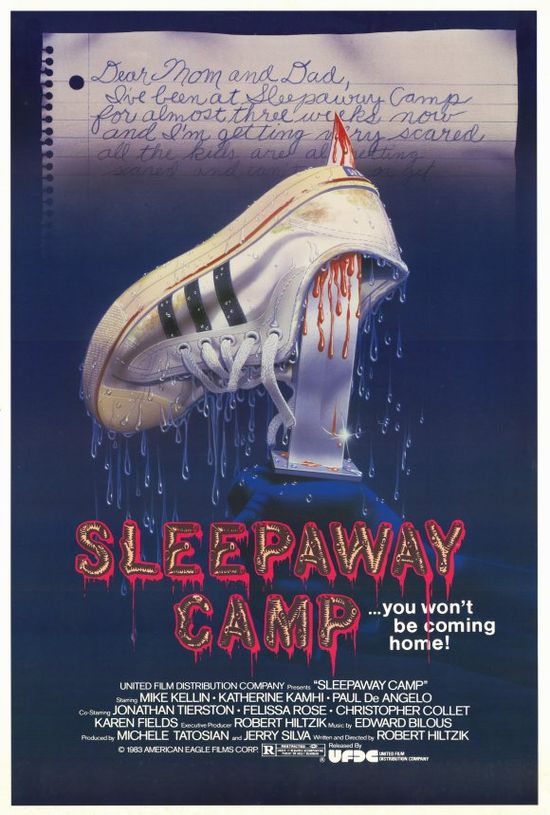 Year: 1983
Duration: 01:24:21
Directed by: Robert Hiltzik
Actors: Felissa Rose, Jonathan Tiersten and Karen Fields
Language: English
Country: USA
Also known as:  A halál angyala, Acampamento Sinistro, Blutiger Sommer, Massacre au camp d'été, Nightmare Vacation, Sleepaway Camp – kesäleiri, Uspiony obóz
Description: Sinking boat on the lake with a man and his two children on board. Riding on the next boat teens did not pay attention to the tragedy. As a result of careless driving man and his son killed. Survived girl Angela (Felissa Rose who played in Slaughter Party) is sent to live with her Aunt Martha and cousin Ricky. Only now the girl stood silent, moving from strong traumatic shock. Eight years later, Angela and Ricky are sent to a summer camp on the lake, where died her father and brother. Unsocial Angela becomes the subject of jokes and attacks of teenagers. Angela is dissapointing with her behavior even adults. And soon people who hurt her, begin to die at the hands of a mysterious killer …
Review: Camp – truly a paradise promised for various maniacs, ghosts and mutants. Was not born in the camp gatherings are the most terrible stories that do not give sleep to its inhabitants? Here we look at how the next maniac crumbles unfortunate children and adults who come to his misfortune in the "damned» camp.
Though the film Sleepaway Camp and stated, as a representative of classic slasher genre, do not expect him to complete perfection. Because otherwise, it will disappoint a little unprepared viewer. The thing very well tightened timing. And not only (as entertaining film can not be too long) there are too many "peace-time" when absolutely nothing happens. The time from one murder to another unforgivable tightened, and "meaningless content." And, I think, because of this missing is the atmosphere that should be present in any slasher – atmosphere languishing soul, omnipresent fear, a sense of danger.
But the Sleepaway Camp is not that famous, and his wonderful ending. She is not only unexpected, but very well thought, not taken "out of the air", and is the logical premise of the movie. I must say, I realized that the same is brought before us the final, somewhere 10 seconds before him. And then in shock staring at the screen for the real killer.
Killing themselves very well made. It is clear that a credible and realistic stabbing victims we will not show, because it would look unnatural. But the director goes very well, showing generally not killing themselves, and their result – the bodies of the victims. Which, by the way, looks very scary and sometimes disgusting (makeup artists did their best) What about acting is nothing intelligent to say I can not, because the idea of ​​the heroes of horror changed dramatically over the 80 years we. But still, in my opinion, many nedotyanuli. Angela is only good, and then only in the final scene.
Screenshots:
Download: