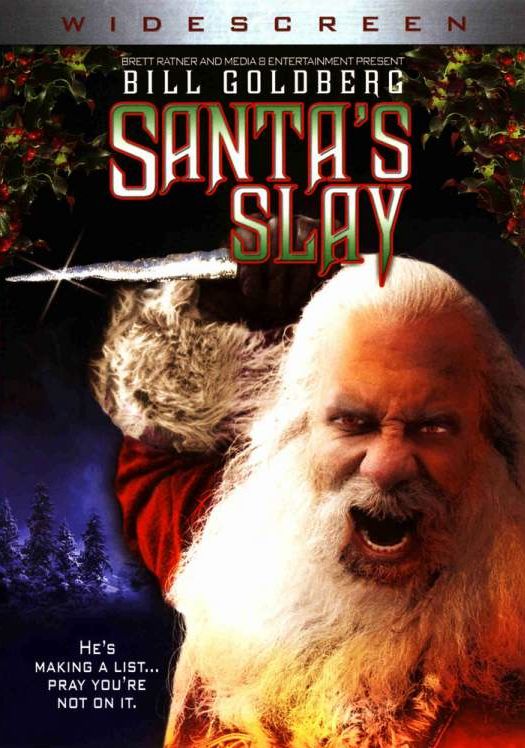 Year: 2005

Duration: 01:17:55
Directed by: David Steiman

Actors: Bill Goldberg, Douglas Smith, Emilie de Ravin

Language: English
Country: Canada | USA
Also known as: El verdadero Santa, Uma Noite de Furia, Very Bad Santa, Veres karacsony, Zly swiety, Matanca de Natal, Satan's Slay – Blutige Weihnachten, Santa's Slay – Paholaispukki

Description:On Christmas everybody is waiting for the good of Santa Claus with gifts. But it was not always so… a Thousand years ago one of the demons named Klaus lost bet angel, which was forced to bring joy and gifts for people for Christmas. But today the bet expires, and Santa Claus is ready to be really fun and intends to take revenge on people for the full program.
Review: The film opens with a scene that could irrevocably destroy you, bulldoze all of your ideas about the film, kayo before the opening credits .
Christmas dinner in a normal American family . The holiday table is tied conversation , during which we learn two things: all members of the family obviously sick in the head . And the writers , as it turns out , too. Fortunately , we will not hear the rest of the conversation to end. After a fire in the house burst into Santa. And this is where the fun begins . Retelling the content of the ensuing scene – a grave sin. This is a must see. I will say one thing for myself, I put it to the first position in the list of the most ridiculous , absurd , stupid and inept played scenes in the story.
If you do not want to see this nonsense fevered mind , I will make the following statement : Compared with this , even the notorious Uwe Boll (Zombiegeddon and Seed) movie will seem the height of perfection . Who is now starring in need this thrash the actors and director, as well as all the people involved in it ? And how might such a meeting so many poor in one place? However, do not look for answers. They are not. "Santa Killer " is a reality beyond the reasonable . You could say extraterrestrial creature . We are too insignificant to appreciate it.
Screenshots:
Download: