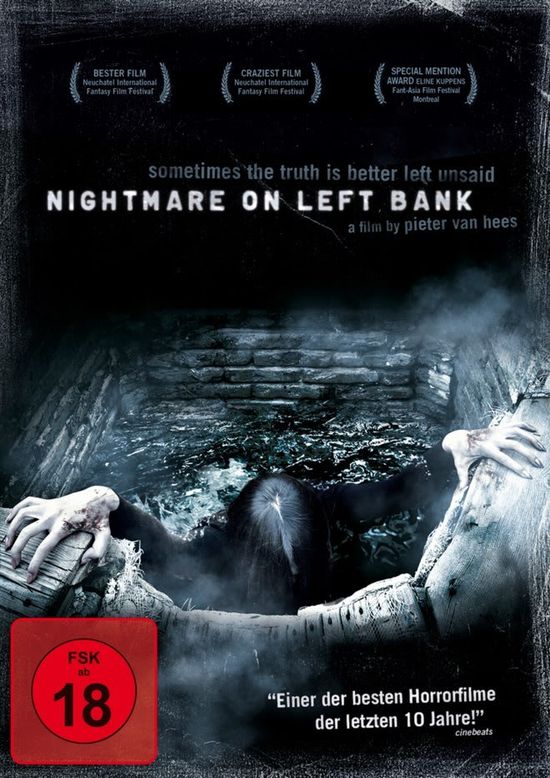 Year: 2008
Duration: 01:38:02
Directed by: Pieter Van Hees
Actors: Eline Kuppens, Matthias Schoenaerts, Sien Eggers
Language: Flemish (English Subs)
Country: Belgium
Also known as: Linkeroever, Nightmare on Left Bank, Szellemház
Description of Linkeroever movie: In Antwerp, Marie is a world-class runner at 22. This is where she meets Bobby, an archer, and they start a relationship. Bobby invites her to stay with him as she recovers from her injuries. Strange happenings start to emerge in the flats of West Bank. She soon realises Bobby is not the man she fell in love with.
When Marie, slightly closed in itself a young athlete receives a small injury and forced to relax from sport competitions, she decides to move in with her new friend in his apartment on the left Bank of the Scheldt. Their passionate relationship at first glance, help her, until she learns that in the basement there is a mysterious black hole, and the previous apartment renter mysteriously disappeared.
Review: "Left Bank" c packed a good idea , good actors , and even a decent operator , director, and other creative brethren ( tolerable installation, good music ) , that's just a script shattered , and build it back into a harmonious work failed.
Before us is a mystery novel that is something even reminded of the "Black Swan ," Aronofsky , but it was after the enlightenment view and it was very short.
In fact , the understanding that before you thriller with elements of mysticism comes probably about ten minutes before the end, because before that there was an impression that you look overwrought drama about the life of athletes and its attempt to exist outside of the sport. It was the case that the director did hint that the movie is not so simple , two or three 2- minute nightmare runner Marie , but they somehow got lost in bytovuhe Marie and her boyfriend.
The entire film is literally bogged down in a swamp of boring from its overload with unnecessary scenes and empty chatter. Therefore it is not the most outstanding final looks bright beam in the realm of shadows . And like a ten bright spot at the end of the film makes clear some of the darker side of what happened in the film. But at the same time raises the front of the audience dosmotrevshim other more rhetorical question: " Why would remove the previous one and a half hours . And all this, the author wanted to say ? '. I hope many of you will find the answer to this question. I refuse to give up , and further revisions of this film.
Screenshots:
Download: