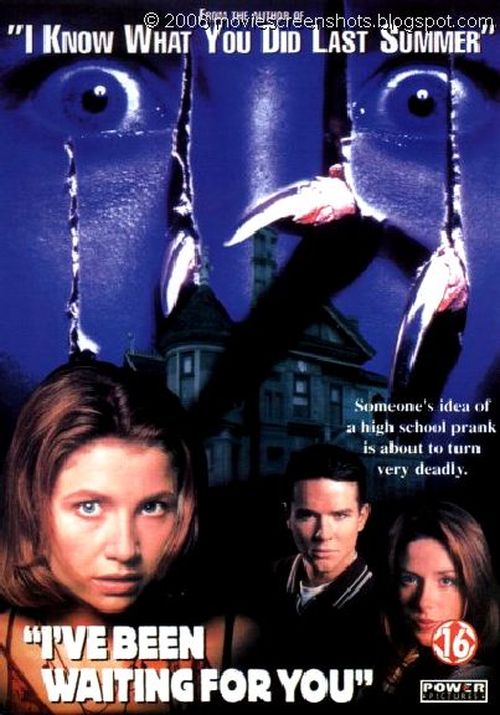 Year: 1998
Duration: 01:27:51
Directed by: Christopher Leitch
Actors: Sarah Chalke, Soleil Moon Frye, Ben Foster
Language: English
Country: USA
Also known as: Te estoy esperando, Dalgo te chakah, Der Mörder wartet schon, Te estaré esperando, Olen odottanut sinua, Je t'ai trop attendue, Tudom, mit suttogtál a sötétben, La maledizione di Sarah, Estaba esperándote
Description: Get ready for the tamest slasher you will ever see as a "killer" dressed up as a witch starts terrorizing the students of a high school.

Review: "I've Been Waiting for You" – a mystical story with elements of a thriller in the spirit of " Are you afraid of the dark ." The film is completely devoid of bloody scenes , there is no suspense , and in general it is more appropriate for a children's audience , rather than for an adult . Surprise with something spoiled this picture viewer is not able to . But also present in the film and share the detective , which , in principle, supported the whole story.
The storyline is quite interesting . There is a legend about a witch who was burned at the stake, and she promised to come back and take revenge on the descendants of his murderers , and there is a girl who just arrived in the city , settled in this very house witch , and also bears her name . The plot is interesting. Next begin to unfold flavored mysticism. And now the script goes into mainstream detective , but certainly not in horror . Until the end, the audience will not guess who is behind all the murders , plus the film has an ambiguous ending. History is likely to appeal to fans of puzzles rather than any kind of horror fans .
Acting is not surprised . Immediately evident that the project has been calculated only on TV , so young talent did not put much effort to convey their characters . Sarah Chalke constantly replayed and emotions on her face seemed completely unnatural. Soleil Moon Frye opposite – went with emotionless face . Probably the only one who managed his role was Ben Foster , though not shown top genius , yet above the rest looked much better. A Christian Campbell demonstrated the ability of the average youth hero horror .
Turned out quite amusing picture , which, though loses compared to modern detectives and horrors , but still for the TV project is not so bad . The biggest drawback of the movie is that it came out so very childish, and deprived of any bloody scenes .
Screenshots:
Download: