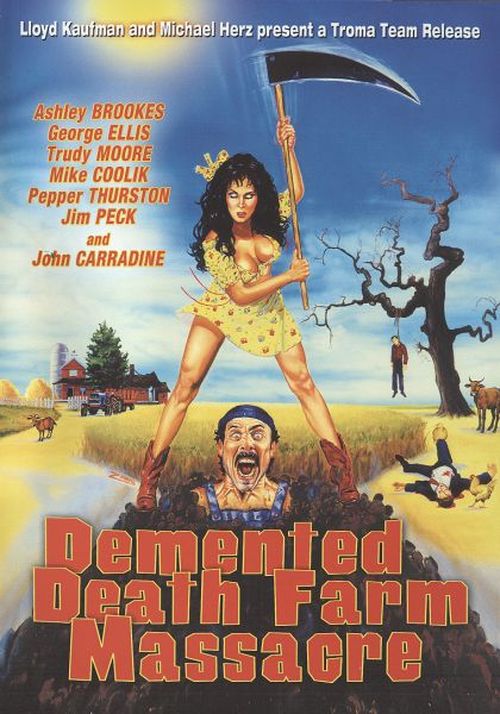 Year: 1971
Duration: 1:23:14
Directed by: Donn Davison, Fred Olen Ray
Actors: Ashley Brooks, George Ellis, Trudy Moore
Language: English
Country: USA
Also known as: The Hillbilly Hooker, Honey Pie, Little Whorehouse on the Prairie, Die Todesfarm, Dias de Horror y Muerte, Demented Death Farm Massacre… The Movie
Description: Turning the big case in town, a gang of robbers hijacked a jeep and decides to hide in the province, where they find the perfect refuge in a lonely farm with a good-natured hostess. Only her husband was not at all happy about the uninvited guests…
It's Deliverance meets A Fish Called Wanda in this terrifying tale of suspense and action that'll make you squeal like a pig!
After executing a daring robbery in the big city, a gang of psychotic diamond thieves steal a Jeep and head out into the country. When the Jeep runs out of gas, they ditch it and wander into a backwoods farm, the perfect hideout! And even better, there's a country bumpkin with huge udders living there offering the thieves some good ol' fashioned Southern hospitality!
Everything is cool as a glass of lemonade, that is, until the babe's seemingly dimwitted husband returns home from a long hard day of shucking corn. Sensing the ill-fated intentions of his freaky farm guests, the Farmer must come up with a plan to turn the tables on these dangerous thugs. Fighting to save his wife, his farm, and more importantly himself, the farmer pulls out all the stops – including his dreaded pitchfork in a series of heart-stopping & nail-biting confrontations with the thieves.
Demented Death Farm Massacre is like a warped version of Little House on the Prairie, where doing the chores means sticking a pitchfork through somebody's guts!
Screenshots
Download