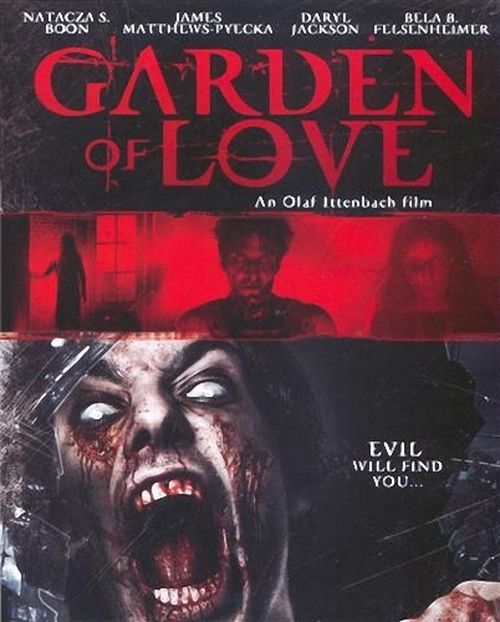 Year: 2003

Duration: 01:25:40
Directed by: Olaf Ittenbach

Actors: Natacza Boon, James Matthews, Daryl Jackson

Language: English
Country: Germany

Also known as: The Haunting of Rebecca Verlaine

Description:In the same manor occurred a terrible carnage. At night there crept unknown in a clown mask and using a knife for cutting meat dealt with 11 people, mutilated and having dismembered their bodies. The killer was never found, and the place where the crime of living has a girl, which, although badly wounded, managed to miraculously survived, but lost her memory. Several years passed, the girl grew up and already got a guy who thought of marrying. Only recently it began to persecute nightmares that terrible night: persistent hallucinations, in which she sees some freaks with disfigured faces and bodies, and then scurrying near her, and trying to speak to.
Review: The film "The Garden of Love," filmed in 2003, known in narrow circles of the German director Olaf Ittenbah (No Reason and Burning Moon), which became and co-writer of this picture, which is very typical of the creation of the German master in the genre of gore. However, in this film was a place and the drama, although it will be able to see a few viewers, because it has a lot of explicit scenes of violence taken by the operator Holger Fleig quite realistic and creepy.
Of course, the actor playing a tape is not ideal, because at its core, "The Garden of Love" is a thrash metal in its purest form. However, Natasha Boone (Rebecca), James Matthews and Daryl Jackson play their characters very well, creating interesting and volumetric images.
Composer AG Stridl wrote the film a powerful and eerie soundtrack, ideally approached the bloody series of visual pictures.
"The Garden of Love" – a dark and hard Olaf Ittenbaha horror film that I recommend to all fans of the horror and trash.
Screenshots:
Download: