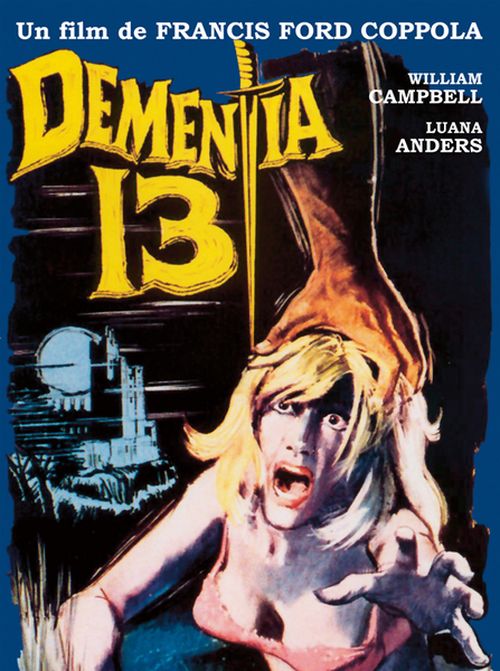 Year: 1963
Duration: 01:14:50
Directed by: Francis Ford Coppola
Actors: William Campbell, Luana Anders, Bart Patton, Mary Mitchel and Patrick Magee
Language: English
Country: USA
Also known as: The Haunted and the Hunted, Demencia 13, Demência 13, Djævelens borg, Fright Night, Nattens skräcknäste
Description of Dementia 13 movie: In fact, a very interesting film. In it there is some sort of special atmosphere of terror, which is not found in modern movies. Also unlike the standard horror movies here has a story. Unfortunately, modern movies in which the amount of blood and severed body parts prevails over sense, can not give the feel of the entire depth of the atmosphere of the old horror movies.
Review: When viewing this ancient horror , it is necessary to pay attention not to the name of the director and co-writer Francis Ford Coppola , and the name of the producer Roger Corman – mnogostanochnika penny genre product categories "B ", "C ", etc. As is known , the total production of one this opus was held for a couple of weeks. This film is the speed of shooting felt. Actors nedoigryvayut ; scenario unexamined , filmed as if not the sixties and forties.
The plot maintains a "fresh " hit of the time "Psycho" Hitchcock. The first third is pumped full of a spirit detective , and by mid- heads for which have entered into fashion, Italian Jalloh with cutting off heads, imaginary ghosts, close-ups of the victims. In fact , the purest Grindhouse. Only without the humor. The intrigue is not interesting and easy to read . It remains the atmosphere , which can bite , only the fans of horror with the smell of mothballs .
As for the director, then to master handwriting is still far. The atmosphere dictate Kormanovskiy standards. Only 10 years later Coppola will change the face of world cinema and will consistently produce masterpieces , which will pore over the years.
Screenshots:
Download: