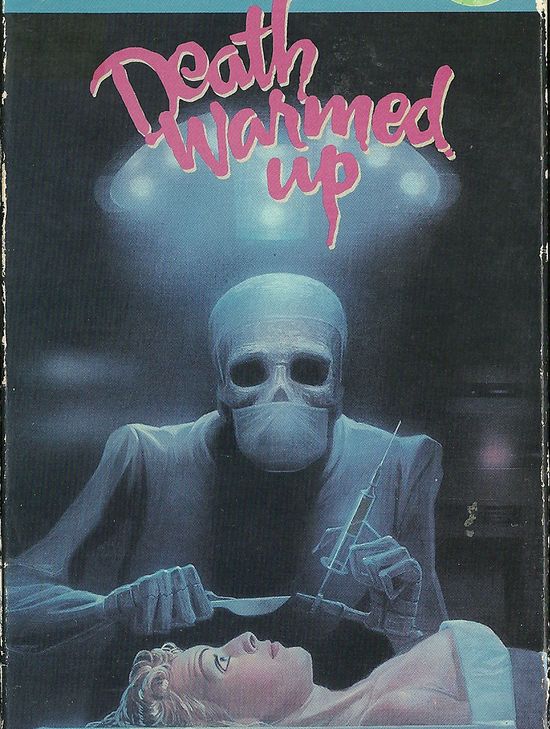 Year: 1984
Duration: 01:19:44
Directed by: David Blyth
Actors: Michael Hurst, Margaret Umbers and William Upjohn
Language: English
Country: Australia,New Zealand

Also known as:  Dödens hetta, De hete adem van de dood, Death Warmed Over, Epistrofi sto thanato, Guerra Para Morte, Le cerveau mécanique, Neuro Killers, Robot Maniac, Smiertelna obsesja
Description: Scientist-physician with napoleonic manners injected to the young Michael a prick of serum and under the influence of which he killed his parents. Eight years later, Michael was released from the psychiatric hospital and with friends went to an island, where the nasty doctor set up the whole vile of experiments, performed from which the patients heads were exploding.
Review of Death Warmed Up: Rule #47 of being a mad-scientist: never allow past victims to get their hands on a sharp object while in a confined space with them. Most of the time, the victims are able to get rid of you. Hahahahaha……
Ok, let's get back to the review. The plot and narrative are weak but fun to watch. This is the 1st low budget export from New Zealand and has the distinction of being the 1st NZ horror film. Many great gore and splatter such as head exploding, brutal impalement and drills through heads. Watching 2 horny couples going to have fun in a remote island, being chased by  motorcycle riding lab workers and eventually they are pursued by a pack of man-beasts (a by product of bad experimentation by the doctor) are hilariously funny. There is this shower scene where the evil doctor injects serum on the ass cheek of the main actor, quite homo-ish I could say. The anti climax starts when the hero kills the doctor but overall, is a fun one to watch.
Screenshots:
Download: