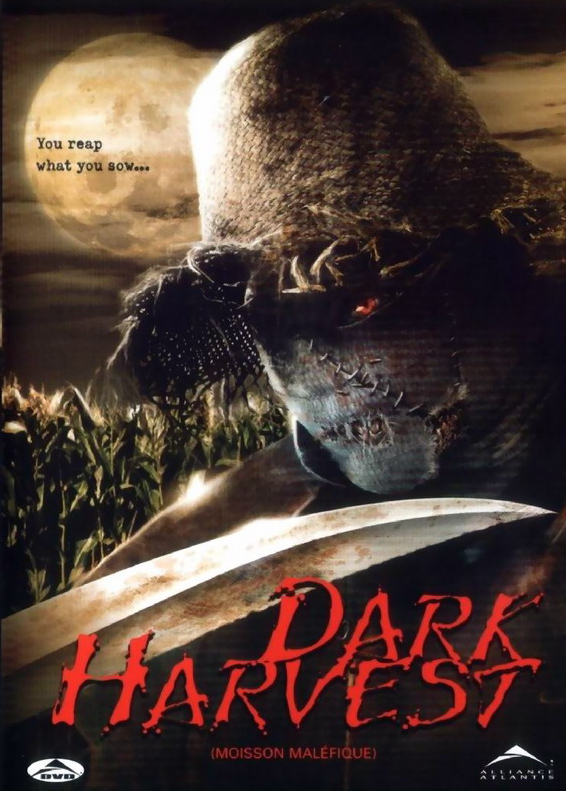 Year: 2004
Duration: 1:26:14
Directed by: Paul Moore 
Actors:Don Digiulio, Jeanie Cheek, Jennifer Leigh 
Language: English
Country: USA
Also known as: El espantapájaros del diablo; Symfonia me to Diavolo; Oscura cosecha

Description: When a young man inherits a farmhouse, he and his friends go to stay a weekend there and relax. But there is no relaxing in store for them. When a decades old curse is awakened again, the young vacationers are killed off one by one by vengeful scarecrows with glowing eyes. With its "amazingly" "fluid" camera work, and deep one dimen… I mean three dimensional cast, which at no point in the film act like they are going to start making soft core sex, it's hard to imagine how a film like this got only a 2.3 on imdb.
Dark harvest with interesting description is merely a cheap Amateur film made, the most for the week at no-cost the help of friends, acquaintances and just random people. The story is that during the terrible drought of an American farmer thought for a good harvest to sacrifice wage workers, posting their bodies like a Scarecrow (which he did only out of pure indulgence, because the ritual only has to water the earth with blood). Many years later, on these lands the rightful heir comes with a bunch of friends with the aim to have fun, because what could be more exciting than an old abandoned farm, it's better than Disneyland. By pure coincidence, at this same time, in the world of the living souls of the dead return of the evil farmer workers in the form of a zombie-scared with rubber noses and red LEDs in the eyes. I till last moment thought that it dressed in costumes of monsters the manic rednecky, which do not feed bread — give urban youth a scythe to chop, but no — it's all real, and before the final credits, these plush monsters will drive the audience into hysterics at his every appearance on the screen.
The major problem of the movie is that he's just furious boring. In an attempt to give the story depth and reveal the characters a little poshirshe standard set of stereotypes, Paul Moore has infused his script with so many incredibly long and dull conversations about nothing, what three movies would be enough. Sometimes it seems that watching not a movie, but poorly written quest, where each replica of the main character, the interlocutors give out a ton as reveal the story information. What all this graphomania monotonically pronounced with wooden actors devoid of emotion faces more interesting viewing does not, so be prepared to press the rewind button as often as never before shook. As his last trump card, in a desperate attempt to attract the attention of a sleepy audience, the film demonstrates bathing naked lesbians, but all in vain — great drowsiness of this film not to interrupt anything.
Screenshots
Download