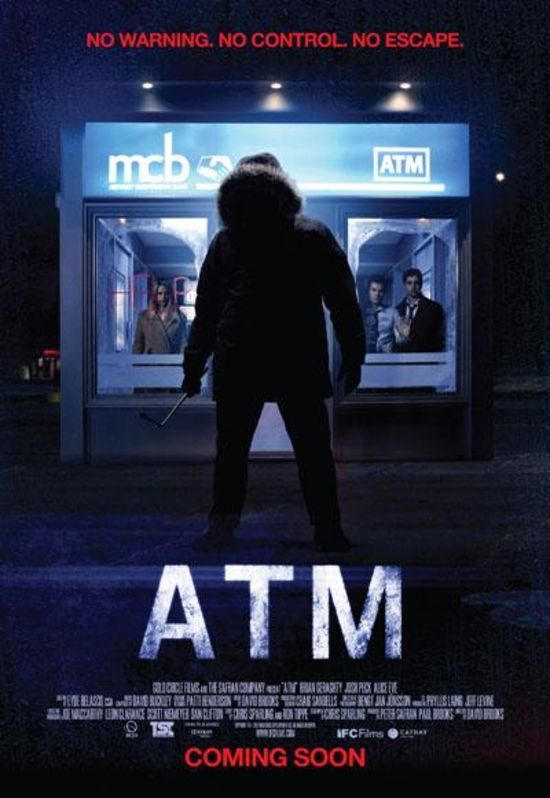 Year: 2012
Duration: 01:30:16
Directed by: David Brooks
Actors: Brian Geraghty, Alice Eve, Josh Peck and Mike O'Brian
Language: English
Country: USA | Canada
Also known as: Armadilha, No Escape, ATM – Trappola mortale, ATM – Armadilha Mortal
Description: The story of the three colleagues, which attempt to withdraw money from the nearest ATM late at night, turns to unforeseen consequences. Begins to terrorize the ominous Maypole in the long jacket with a hood, which does not allow them to go free.
Review: Maniac – cold-blooded, calculating, physically strong, hardy, able to anticipate events several moves ahead. The victims – the average ordinary people, office plankton, by chance, found themselves in the wrong place at the wrong time. Actions of the main characters (victims) – mindless, often not logical, and is almost always going to cut with common sense and instinct for self-preservation. Location – the desolate countryside on the outskirts, where the chance to meet the police or a bystander extremely small. Plus, as it always does, the inability to use cellular communication … On such templates are produced annually more than one hundred films of different levels of entertainment and success. And often, because of cloning, find no positive response from the viewer.
ATM withdrawals on the same pattern. But by the middle of the movie you notice that the filmmakers managed to draw attention to the fate of the main characters, and intrigue motives and persona killer. The actors did not show anything extraordinary, but, nevertheless, looked in their roles harmoniously and naturally. Start boring (but plus crew it is not tightened), the middle is quite pleased with the stout tension in the story, but the ending of the original ideas of the authors of the picture is clearly not enough. And sorry, could get quite a good movie, and so it can be attributed to the category of movies on one once.
In general, the film turned out quite interesting, dramatic, but ill-conceived ending spoils. Fans of thrillers such a storyline movie should come to mind, but horror fans can safely ignore it, nothing scary here you will not see.
Screenshots:
Download: