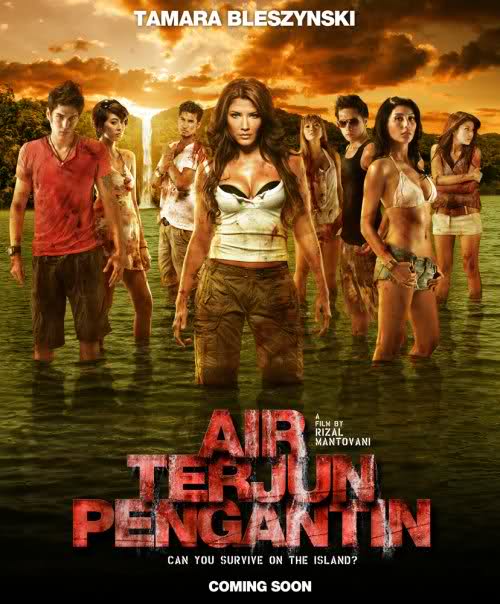 Year: 2009
Duration: 1:20:15
Directed by: Rizal Mantovani 
Actors: Tamara Blezinski, Marcel Chandrawinata, Tyas Mirasih
Language: Indonesian
Country: Indonesia
Also known as: Lost Paradise – Playmates in Hell
Description: Bride's Waterfall, tells of horrific events experienced by a group of young people who go on vacation to the Bride's Waterfall.
It's Tiara (TAMARA BLESZYNSKI), a former wushu athlete who experience dark phobias after an accident. To freshen up, Tiara want a vacation with his girlfriend, Lilo (Kieran Shidu), his cousin, Mandy (Navy Rizky Tavania), and friends Mandy, Amy (Tyas Mirasih), Statchie (Jenny Cortez), Dynar (Nanie Darham), Icang (Marcel Chandrawinata), and Bram (Andrew Ralph).
They also set out to climb two ships to the island in which the Bride's Waterfall is located.
That is said, if someone mentions his hopes in the Bride's Waterfall, the hopes will come true.
"Company of travelers landed on a distant tropical island in search of a waterfall, according to local belief can grant wishes. Exotic place however stores and other mysteries: the island is also home to a mad hermit shaman who immediately begins to hunt for relaxed strangers."
Screenshots
Download