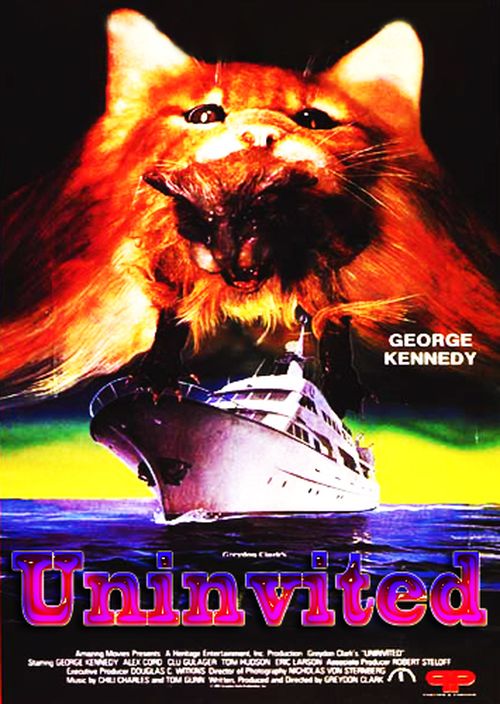 Year: 1988
Duration: 01:30:25
Directed by: Greydon Clark
Actors:  Toni Hudson, Eric Larson, Alex Cord
Language: English
Country: USA
Also known as: Sin invitación, Sem Convite, Kutsumattomat, Le Clandestin
Description of Uninvited movie:As a result of genetic experiments in secret government laboratories was obtained mutant cat. Geniuses of science turned affectionate pet dangerous and bloodthirsty monster.
Once this monster escaped and climbed on a small ship, sailing off into the open sea. Passengers and crew had no idea what they had prepared a deadly test fate. Not everyone is destined to return voyage from hell …
Review: 1988 . We have , of course, spoiled by modern film shot eminent directors, with the assistance of Hollywood stars , with high-quality special effects , etc , etc. That is why this film in 2009 seems naive , childlike, simple. But at the same time , those who can still watch old movies ( imbued with the spirit of the time, put yourself in the audience of the time ) will find something interesting . Or just about ponostalgiruet past horror movies . So, briefly about the film:
1. The film fits into its 90 minutes. There are no half- Ohoven and sighs at the moon and the arguments about life and love . All times shown as much as you need to understand what is at stake .
2 . The film was made for video , that is not for cinemas . This is understandable, because his approval rating – PG- 13.
3 . About cats . ` Geniuses from science affectionate pet turned into a dangerous and bloodthirsty monster ` . Cat in all its glory , you 'll find it so. But here is the monster , which turns into a cat – no. Rather , half. Probably in order to not see the hand of an assistant holding a stuffed toy monster. Yes, and the monster – so-so, not terrible. But the main idea , right?
4 . There is someone to look and what to see . Actors do not discharge from the gate with the first ` ` (I mean older actors ) . Description Highlights: cocky macho and sassy friend, stubborn stupid blonde and her friend , a millionaire with two poddelnikami , yacht captain , interested in the return of the yacht and modest biology student .
5 . You've seen that throughout the day the cat meowed incessantly , and sometimes dangerously ? And basically , when one sits or hands ? And our main character can do that.
Screenshots:
Download: