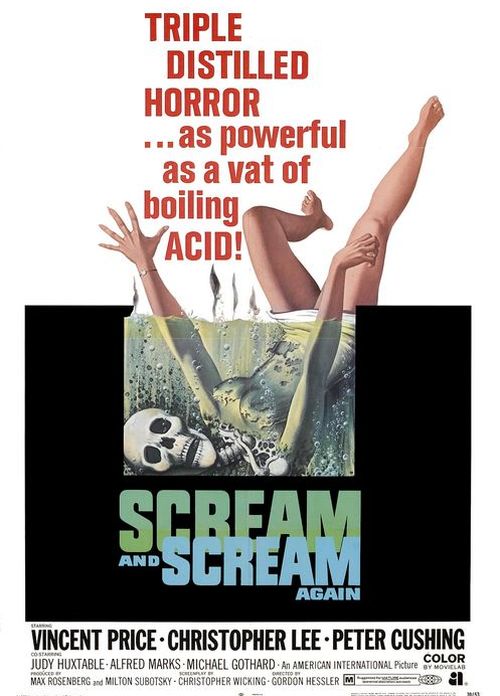 Year: 1970
Duration: 01:34:25
Directed by: Gordon Hessler
Actors: Vincent Price, Christopher Lee, Peter Cushing
Language: English
Country: UK
Also known as: Screamer, Grite, Grite Outra Vez, La carrera de la muerte, Huuto yössä, Doctor Diabolic, Lâchez les monstres, Oi 3 daimones tou tromou, Terrore e terrore, Skriiik… och skriiik… igen!, Die lebenden Leichen des Dr. Mabuse
Description: Scream and Scream again is a movie with four or five dfferent plots all racing towards a final explosive conclusion. You've got the man running in the opening credits and his subsequent amputations, the barbaric Eastern Bloc country suppressing the population with torture, the superhuman "vampire" killer, Dr. Browning's (Vincent Price) suspicious experiments and a missing British pilot. I watched this movie for the 7th time and still didn't know where all this action was heading. So follow along closely and prepare for an action packed thrill ride comeplete with car chases, serial killing, and an infamous vat of acid.
Review: This film , I think, originality does not hold. I am sure that after reading the script it immediately agreed to act very influential at the time , Christopher Lee, Peter Cushing and Vincent Price.
However, these actors have played major roles far . Meanwhile, the subject of the picture came out very multifaceted . It all starts with the fact that we show the society of the future – a whole new world order , provided with some other even devised a swastika.
Soon, when we introduced into the swing of things – we are in London, which is a maniac on the streets committing massacres of women. However , almost immediately vector peremetnetsya movie again . This time we will meet with pass in a test tube " Superman ."
At the end of the film, we are again fed to the subject of the super- human eugenics.
Actually , the film leaves the impression of a certain understatement . I will offer a new metaphor : if the viewer was invited to lunch with a proposal to discuss prospects of cooperation. Dinner was delicious , but at dinner my host said a word .
It is in this and get this movie. If you wish, it would have turned out even series – the potential for the film was in fact . Especially because in those years were in vogue these antiutopichnye phantasmagoria ( from " Ipkress Fails " and ending with " Manchurian candidate of the " Frankenheimer ) . However, I think that the anti-utopian line of the movie was not appreciated at its true worth .
Would have to pass many more years before the " Vaterland " will be released worldwide distribution .
Screenshots:
Download: