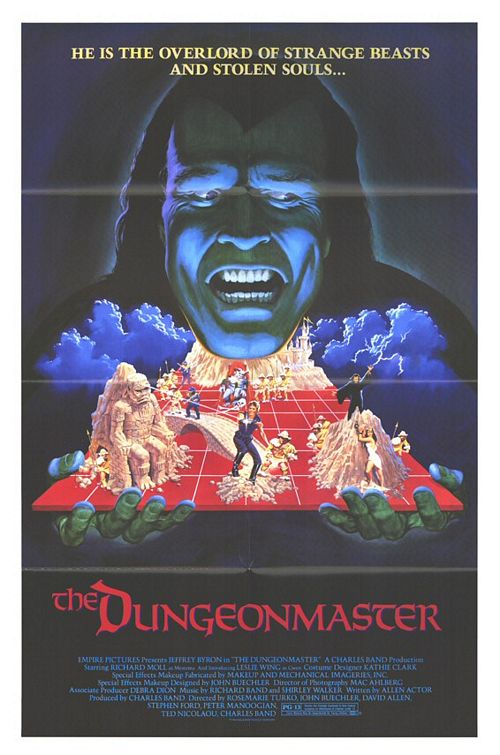 Year: 1984
Duration: 01:17:22
Directed by: 
David Allen (segment "Stone Canyon Giant")
Charles Band (segment "Heavy Metal")
John Carl Buechler (segment "Demons of the Dead")
Steven Ford (segment "Slasher")
Peter Manoogian (segment "Cave Beast")
Ted Nicolaou (segment "Desert Pursuit")
Rosemarie Turko (segment "Ice Gallery")
Actors: Jeffrey Byron, Richard Moll, Leslie Wing
Language: English
Country: USA
Also known as: The Dungeonmaster | El amo del calabozo (Spain) | Mestema, le maître du donjon (France)
Description: Paul is a modern day wizard, a real computer genius that spends too much time in front of the machine rather than with his beautiful girlfriend.
Mestema is a rela wizard, an evil man with power growing for several centuries.
Mestema is in need of a challenge and kidnaps Paul's girlfriend to use as levereage in order to have Paul compete with him.
Having his computer turned into a wristband weapon, Paul will face some of the great monsters of all time until he can come face to face with his true and ultimate adversary.
Review: Programmer Paul Bradford and his girlfriend Gwen fall into another world, where reigns the demonic sorcerer incompatibility, Paul believes his only worthy opponent. To survive and save her friend, Paul is forced to wander in different worlds, battling with the most incredible creatures, endowed with supernatural power and cruelty …
Quite good fantasy. The idea of confrontation master programmer and powerful sorcerer very original. What's more, technology or magic? It is to be seen and Paul Bradford, cruel slave Holds one of the incarnation of the Devil.
Acting on a high level. Holds ominous, for Paul and his girlfriend are going through. The plot is interesting, but the implementation plan pumped up. "Living Doll" and the method of time-lapse shooting hurt the eyes, at the time were the opportunity to make more realistic effects.
Screenshots:
Download: