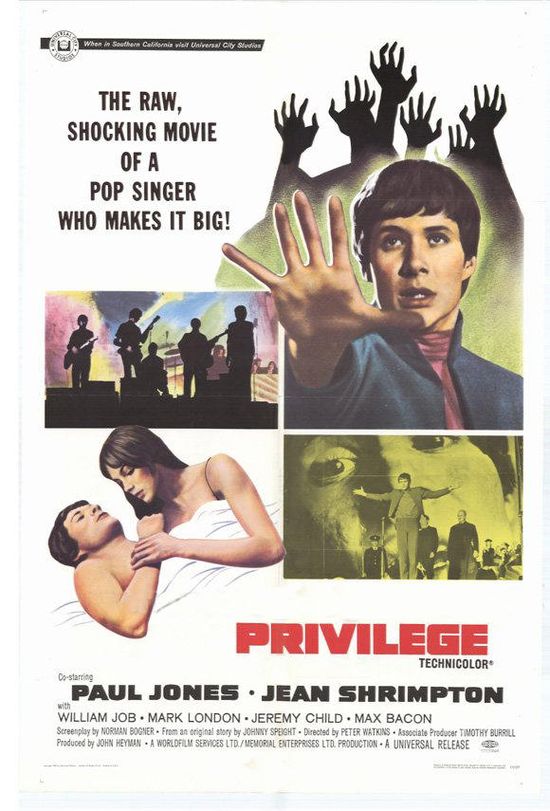 Year: 1967
Duration: 01:35:00
Directed by: Peter Watkins
Actors:  Paul Jones, Jean Shrimpton, Mark London
Language: English
Country: UK
Also known as: Privilégio, Przywilej, Privilege – idol och rebell, Kiváltság

Description: Peter Watkins , who became famous after his pseudo- documentary masterpiece about a nuclear attack on the United Kingdom, made ​​another film . Due to the relevance of the theme movie was no less provocative.
And what topic could be more provocative than the issues of nuclear war three years after the Cuban missile crisis ? This topic is – it's a rock star. But with one small caveat that we are talking about the UK mid 60s .
Imagine that in the period of "The Beatles" is a film a rock star . Star that becomes an idol and the undisputed leader in Britain.
This , of course, there is nothing reprehensible and provocative . In essence , there is nothing provocative and that hero worship as a kind of sacred figure , a preacher , an idol . But the caveat is that unknown persons decide to use fame hero.
With it, they want to solve their political goals , as well as to obtain an effective tool to subjugate the masses. They are not shy about the fact that people are beginning to " confuse " the hero of the Messiah . Them is just at hand .
In the picture Privilege, Watkins will again refer to the pseudo- documentary genre . Some episodes are – interviews with people who communicated with the hero . This will create a realistic , if we look at a program on "The Beatles " or " Rolling Stones ." However, without parallels with "The Beatles" here will not do …
The main roles performed superbly Paul Jones and Jean Shrimpton . Surprisingly, bright, beautiful and spectacular Jean Shrimpton , played his entire career in just one film .
Well, about Paul Jones will not talk much . Former rock singer perfectly coped with the task , playing a very difficult and decisive man .
Review:
Screenshots:
Download: