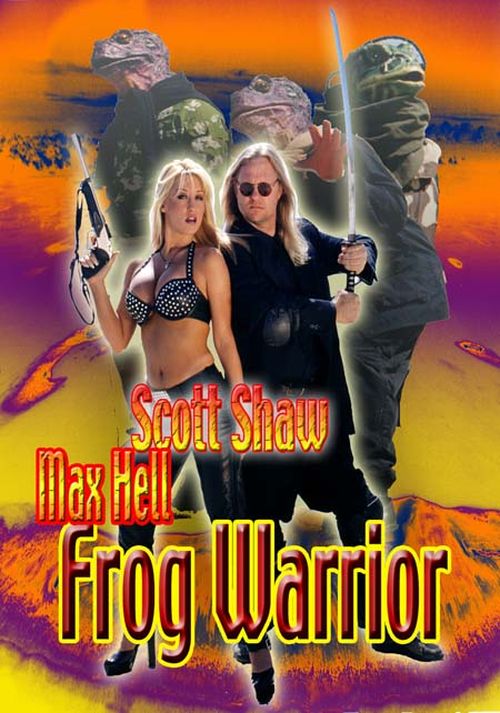 Year: 2002

Duration: 01:08:40
Directed by: Donald G. Jackson, Scott Shaw
Actors: Scott Shaw, Jill Kelly, Joe Estevez
Language: English
Country: USA
Also known as: Max Hell Comes to Frogtown
Description: 
Max Hell Frog Warrior is a 2002 martial arts based cult film that was written, produced, and directed by Donald G. Jackson and Scott Shaw.
This film is the fourth in the Hell Comes to Frogtown quadrilogy that includes the cult films Hell Comes to Frogtown, Return to Frogtown, Toad Warrior and this film, Max Hell Frog Warrior.
The story for Max Hell Frog Warrior was conceived by Donald G. Jackson. The film stars Scott Shaw, Joe Estevez, Conrad Brooks, and Jill Kelly.
This film follows the lead character, Max Hell, played by Scott Shaw, who goes on a mission to rescue Dr. Trixi T from the clutches of the evil Mickey O'Malley, played by Joe Estevez.
According to the filmmakers in an interview in the magazine, Independent Film & Video Monthly, Max Hell Frog Warrior is not so much a sequel as it was inspired by the original concept for the film Hell Comes to Frogtown formulated by Donald G. Jackson in 1986.
This film is considered a Zen Film in that it was created in the distinct style of filmmaking formulated by Scott Shaw known as Zen Filmmaking. In this style of filmmaking no scripts are used.
Screenshots:
Download: